Dusty Hannahs hit a game-tying triple in regulation before coming up with big buckets in overtime as the Adelaide 36ers pulled off a colossal upset of the league-leading Melbourne United, 88-83 on Sunday in the 2021-2022 NBL Australia regular season at the Adelaide Entertainment Centre.
Hannahs forced overtime after draining a corner triple with 13 seconds left in the fourth quarter, tying the count at 74-all before taking charge in the extension period with eight points to will the 36ers to victory.
The backup point guard starred in a 10-0 run in overtime, making three big baskets before adding another floater under 46 seconds left to make it 86-80.
After Chris Goulding made three free throws to cut the deficit down to 86-83, it was Kai Sotto who hit the dagger jumper from the elbow, making it 88-83 with 33 seconds left.
Hannahs finished with 19 points on 7-of-12 shooting and three rebounds off the bench to lead all Adelaide scorers.
His crucial trey came after Melbourne went on a 10-0 run in the payoff period, seemingly sealing the game after a Shea Ili three made it 74-70 with a minute left in regulation.
With the win, the 36ers snapped a three-game losing skid and improved to 4-6 in the team standings, forging a three-way tie along with the Brisbane Bullets and Sydney Kings in the middle.
Todd Withers tallied 17 points, Cam Bairstow notched a double-double of 16 points and 12 boards, while Sotto played his finest game yet with 12 points and four rebounds in a career-best 21 minutes and 15 seconds of play.
Adelaide led by as much as 10 points in the third quarter. The 36ers made a great defensive effort against Melbourne, limiting them to only 4-of-30 from three-point distance.
Goulding went 0-of-9 from long range with only four points. Jo Lual-Acuil led United with 23 points (9-of-12 shooting) and 12 boards while Jack White contributed 18 points and 11 rebounds.
Melbourne lost only its third game of the season, dropping to 8-3.
Adelaide will face the Cairns Taipans next on February 3.
Photo from Adelaide 36ers Facebook page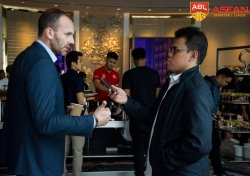 Latest posts by Levi Joshua Jr Verora
(see all)