The Adelaide 36ers' struggles continued after a setback at the hands of the lowly Tasmania JackJumpers, 76-71 in the 2021-2022 NBL Australia regular season MyState Bank Arena.
Josh Adams had a big game for the home squad, finishing with 24 points, four rebounds, five assists, and four steals while Josh Magette added 16 points and seven dimes.
Matt Kenyon converted on an and-one play under the final two minutes, giving Tasmania a 72-69 edge before Josh Adams and Magette iced the game with four free throws combined towards the end.
The 36ers led by as much as 11 late in the first quarter, 23-12 after a 9-0 run just as Sotto checked into the game.
But the JackJumpers made the game competitive throughout, before a Hannahs triple and a Sotto dunk created more separation towards the end of the third, 58-52.
The JackJumpers however, would regain the lead after back to back triples by Josh Magette with over six minutes left, 63-62.
With the win, the JackJumpers improved to 3-6 and avenged their 82-80 loss to Adelaide last November 21.
Dusty Hannahs had a team-high 22 points for Adelaide while Kai Sotto was a perfect 4-of-4 from the field for 12 points in close to 17 minutes. He also had two rebounds and a block.
Cam Bairstow tallied a double-double of 11 points and 17 boards, to go along with three blocks.
However, Adelaide had 24 turnovers, an NBL regular season-high, and shot only 3-of-17 from three-point area.
The 36ers played without Isaac Humphries for the third game in a row, while premier point guard Mitch McCarron also sat out due to COVID-19 safety protocols as they dropped to 3-6.
The CJ Burton-coached squad will play Melbourne United anew on Sunday, January 30.
Photo from Adelaide 36ers Facebook page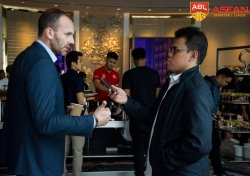 Latest posts by Levi Joshua Jr Verora
(see all)