Chandler McDaniel scored in the 81st minute in unlikely fashion but it was enough for the Philippine National Women's Football Team to beat Thailand, 1-0 in their 2022 AFC Women's Asian Cup group stage debut on Wednesday at the DV Patil Stadium in Maharashtra, India.
McDaniel's screamer of an attempt from way outside the box which Thai goalkeeper Waraporn Boonsing was unable to collect seamlessly rolled towards the back of the net, breaking the deadlock.
It gave the Filipinas the full three points in their maiden Group B battle, capping an eventful match wherein the team had an array of opportunities to score throughout.
In the process, the Philippines made history by beating its Southeast Asian counterparts for the first time ever.
Katrina Guillou came inches away from scoring the national squad's first goal in the 13-minute mark, but her volley which she converted from short distance was deemed as offside.
The Filipina-French footballer once again had a chance in the 29th when she outran her defenders en route to firing an attempt from 30 yards out which only ricocheted off the crossbar.
Later in the 33rd minute, Chandler McDaniel targeted Hali Long with a free kick on a set piece, but Long was unable to approach the ball.
The Filipinas had three more legitimate opportunities in the second half. First, forward Quinley Quezada put force on her attempt from a counterattack in the 58th but it was collected by Thai goalkeeper Waraporn Boonsing.
Ten minutes afterwards, McDaniel outpaced a couple of Thai defenders but her shot went way above the bar.
The only time the Thais arguably threatened was when Sofia Harrison was outpaced by Orapin Waenngoen in the right flank during the 71st minute, as Ryley Bugay was forced to give up a corner kick.
McDaniel would make a deep run later on off a great through ball, but no one received her cross inside the box.
With a stroke of luck, fortunately, the Filipinas were finally able to tally a score before holding out the Thais defensively until the final whistle.
The Philippines will next face regional powerhouse Australia on Monday, January 24 before wounding up its elimination round campaign against Indonesia on Thursday, January 27.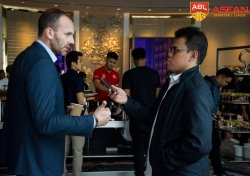 Latest posts by Levi Joshua Jr Verora
(see all)