As Philip Manalang rifled in his now famous "2 million peso shot" — a buzzer-beating, championship-clinching trey last December 23 at the Mall of Asia Arena, Basilan-Jumbo Plastic Medical Depot fans jubilantly roared, the confetti began to shower, and the entire scene erupted into chaos.
But MPBL public address announcer Christopher Juliano, a veteran "barker" as the job is colloquially called in Philippine basketball, made sure to wait — raising both of his hands while looking at the referee to make his signal.
When the game officials finally deemed the incredible shot counted, Juliano held the microphone for one final time and left it all he got to declare Basilan as champions of the Chooks-to-Go MPBL Invitational powered by TM.
"At the end of the ball game, the final score: 80 for Nueva Ecija, 83 for the champions of the Chooks-to-Go MPBL Invitational powered by TM, your Jumbo Plastic Medical Depot Basilan!," he exclaimed, ending in a climactic way another night in the office.
After more than a decade as a public address announcer for various sporting events, mainly basketball in the Philippines and in Southeast Asia, the man simply known by his nickname "Top" is officially signing off.
Being the Maharlika Pilipinas Basketball League resident barker since the inception of Sen. Manny Pacquiao's hoops league, Juliano made the Chooks-to-Go MPBL Invitational powered by TM his swan song in the world of sports venue announcing.
In a few months time, he will be flying to Germany to continue his profession as a nurse, not just for himself, but also for his son who is about to enter senior high school.
In this one-on-one interview Juliano granted to Sports Bytes Philippines, the man behind the trademark "Ba-ba-ba-Balkman" from his duty as Alab Pilipinas' resident barker, "Woooh!", and "Uno, dos, tres!" relives his entire journey from a simple small town boy who had big hoop dreams, not knowing his passion for the game would take him to the world's biggest arenas.
Editor's note: This interview was conducted a day before the final of the tournament, where Basilan-Jumbo Plastic Medical Depot went on to win over the Nueva Ecija Rice Vanguards, 83-80 on a Philip Manalang buzzer-beating triple.
Sports Bytes Philippines: Let's get right into it. You have decided that the MPBL Invitational would be your last announcing stint. What were some of the considerations you had to take before arriving with this final decision?
Top: Given the pandemic, I had to give priority to my financial security. Aside from that, everything went good with my application in Germany as a nurse, so I guess it's also a sign to pursue that. My last game prior to the pandemic was on March 11, 2020 — Game 2 of the MPBL Lakan Cup finals. Four days after, the pandemic broke out.
SBPH: Let's go back to where it all started. Liga Pilipinas, back in 2009.
Top: Yes. My first major stint. 2009. TRACE College. Stallions. Nag walk-in lang ako.
SBPH: Walk-in?! Wow.
Top: I saw na may tryouts. Kapalan lang ng mukha. Nag walk-in ako. Nakita ko lang, may post eh. Naghahanap sila ng resident barker. Eh siyempre, itching to start ako noon, coming from the CSC (Center for Sports Communication) seminar in 2005. Ka-batch ko doon sina Chuck Araneta, Rizza Diaz, Say Alonzo, Edison Ching, and more.
SBPH: And the league folded, because of the failed merger with the then PBL. After that, what happened?
Top: Tigil. Nag UCAA ako. That was my first league in Manila. Tapos 2013, 'yung ABL stint ko na first. Indonesia versus San Miguel. Finals pa. Kasi, walang available eh. Tinawagan lang ako.
SBPH: This was the one at Ynares Sports Arena in Pasig, right?
Top: Oo, 'yun. First major stint ko 'yun talaga. Naiyak pa ako noon. Kasi, nasa team building pa ako noon (with my colleagues). Tumawag si Noel (Zarate). 'Ready ka ba?', sabi niya. So imbis na mag merry-making ako, pumunta agad akong internet shop, research sa mga lineups. Kasi, two days after, finals na. Nasa Laiya kami noon.
Pagkatapos noon, sa TIP naman. Kay Coach Potit De Vera. EDQ Cup, preseason league. Small league lang 'yun pero hanep ang competition doon. Team B, Team A. Doon ko na-cover sina Paolo Taha.
SBPH: But going back to your gig at Ynares first… how did you feel given you were calling out the names of Asi Taulava, Eric Menk, and all those guys? And you were a big basketball fan.
Top: 'Yung boses ko noon, hindi pa nga gaanong pino eh. Kapag binabalikan ko at ina-analyze. Masyado pang excited. Pero okay naman. Nandoon 'yung fire na, kaya ko 'to. And then doon na ako nakuha para sa mga preseason.
SBPH: As we know, of course, the turning point why you decided to take this as a career in the first place was you were glued to the game.
Top: Fan talaga ako. San Miguel noon, since 1988. Purefoods, Samboy Lim, Mon Fernandez fan ako. Inter-college level lang tayo sa Dasmarinas dahil hindi tayo nag-flourish pero first stint ko high school, karaoke. Commentating. Liga sa barangay. Anything I could get into. Kahit Palarong UPLB, 'diba? Or IRRI-UPLB Dual Meet, titirahin natin 'yan.
SBPH: Let's just say that without question, your stint with the ABL in 2013, that one game opened the doors for you, right?
Top: Actually, after noon, medyo natigil, pero noong sa TIP, ayun, doon na talaga kasi nakakasama ko 'yung mga table officials, tapos sinasabihan nila ako na, 'Kapag naka-duty ka sa UAAP, dapat ganito ang boses mo', so parang nakakagana. Eh alam ko namang nandoon pa 'yung mga "oldies". After ng TIP, I was doing PSSBC, Tiong Lian, nag-barker ako sa mga Chinese league para mahasa rin.
SBPH: And as far as I can recall, during the 2015 calendar year, this was when you got into the UAAP and NCAA, in the women's and juniors divisions, respectively.
Top: Refer-refer lang 'yun. May time lang na hindi puwede si Rolly Manlapaz. Ewan ko rin why sa akin binigay actually, you've got guys like Rick Stryker (Edwin Logina), and even Richard (Tampos), kababalik lang niya noon. Ako 'yung parang naging reliever hanggang sa pati sa NCAA, ganoon 'yung sistema, sa Filoil (Flying V Preseason Premier Cup).
SBPH: And it's crazy to think that at around 2013, you'd buy tickets, dumadayo ka sa Metro Manila from Laguna para makanood ng games — just to get a feel of the games. You were really passionate about it.
Top: Kapag hindi ako umuuwi noong college, if may chance, I go to the PBA… PBL.
SBPH: How does it feel na naka-break in ka, given that… let's face it, only a small percentage of people get into this mainstream level?
Top: Best seat in the house. To reach na level na hindi ko inaakala, alam mo 'yun, I got to travel, talagang dream come true. Hindi ako nagsisisi na at some point, noong nagtuloy-tuloy 'yung opportunities sa basketball, na umalis muna ako sa nursing and tinuloy-tuloy ko until nag-pandemic.
SBPH: Let's talk about that… 2016 until 2019, right before the pandemic. There were so many leagues playing simultaneously, so they really needed more venue announcers.
Top: Sa totoo lang, nahihiya pa ako sa ibang barkers. Especially Rolly, kasi before, alam ko, nagkasakit siya. Actually, in 2016, nag-apply rin ako as a nurse sa UK, pero 0.5 na lang 'yung parang sa grade, kaya hindi natuloy.
SBPH: I see. So you really planned on becoming an OFW nurse even before?
Top: Yes, dapat noon pa. Kasi, siyempre, nursing dito, alam mo naman ang sitwasyon. So 2016, after noon, medyo na-down ako kasi naka-ilang try na rin ako. Pero, noon naman, nagtuloy-tuloy naman 'yung basketball. Finollow ko lang 'yung nangyayari sa akin hanggang sa naging fulltime ako until 2020.
SBPH: Ito na 'yung sabay-sabay, the MPBL was born, and then you were also doing duties sa UAAP and NCAA seniors basketball. And then, I could recall there was one NCAA season where they took you as the fulltime barker. Binigay sa'yo. Lyceum-San Beda championship series. Talk about that.
Top: NCAA Season 93. Araneta Coliseum. Dream ko 'yun maka-announce sa Araneta. It wasn't my first, necessarily kasi may UAAP juniors dati. Talagang you draw energy sa crowd eh. And ikaw, siyempre gusto mo rin iparamdam sa crowd kung ano nangyayari sa laro, kung gaano ka-intense 'yung laro. At the same time, naging table official ka rin.
SBPH: Growing up, was it just Rolly whom you tried to emulate, or there were others, foreign announcers?
Top: Ray Clay. Chicago Bulls. Tsaka 'yung sa Sacramento Kings. And of course 'yung sa Detroit Pistons (John Mason). Pero growing up, Noel Zarate, and (former PBA PA announcer) Vince St. Price talaga. Rick Stryker, PBL days. Actually, I tried for the PBL din, pero hindi ako nakuha.
SBPH: Would you say, your style was a combination of these guys? Did it become a problem having your own distinct voice or identity when it came to announcing?
Top: Siyempre, may mga influences din, pero later on, made-derive mo rin 'yung style mo. Parang 'yung Ba-ba-ba-Balkman, kasi maa-appreciate ng tao 'yung ginagawa mo.
SBPH: Talk about Rolly's influence sa'yo. How was he, what were some of the advices he told you?
Top: Okay naman siya. Minsan, nakakapag two bottles pa kami. Naglolokahan kami. Nagkaroon pa rin ng tampuhan minsan, pero okay naman siya. Sa advice, puro kasi kalokohan kami eh, pero basta alamin ko lang 'yung players. 'Yun talaga.
SBPH: How did you practice or create your own style?
Top: Sa kwarto. Nagsasalita lang. Kahit nasa dorm lang. Just every day.
SBPH: Now that you've mentioned Renaldo Balkman, let's fast forward to the time where, here we go, you became Alab Pilipinas' resident barker for their home games, and even for the other ABL squads because they wanted international standard announcing, straight English… and being the fluent English-speaking country in the region, they went to the Philippines for such talents. How was that ride?
Top: Sabi ko nga, mas nauna pa akong nakapag-abroad as a barker, kaysa pagiging nurse. Hong Kong 'yung first country. Singapore, Malaysia, Hong Kong, Macau, mainland China for the Nanhai Wolf Warriors… I did the "Awoooo" like a howling wolf.
SBPH: How was the constant traveling experience? Was it tiring, and all that?
Top: Noong una, siyempre, takot tayo sa eroplano pero naka-adjust naman. May time pa nga na after ng MPBL game, diretso ako ng airport. 'Yan 'yung mga grind dati eh. Kasi 'yung ABL, dati, puro mga early morning flights pa 'yun eh.
SBPH: The Alab Pilipinas stint, this was really what got you in the ABL. Was it coach Charlie Dy who brought you or… ?
Top: ABS-CBN talaga. Three years din akong barker ng Alab. 2017 to 2019, 2020. Nag-start as local and then dire-diretso.
SBPH: How does it feel na in a way, you had the opportunity to be a bit biased as an announcer given the home and away format?
Top: Well, masaya talaga, lalo na kadalasan sa Laguna 'yung mga laro, Santa Rosa, ang ganda pa ng acoustics. Binigyan pa ako ng recognition ng Los Banos as an international barker. Parang resolution from the Office of the Mayor.
SBPH: How was your relationship with Balkman?
Top: Okay naman. May rapport naman kami even if sometimes, parang suplado siya. Nakita ko pa siya sa Philippine Arena noong Gilas versus Australia. Nanood ako noon eh. Nagpa-picture sa kanya.
SBPH: Your signature Ba-ba-ba-Balkman, where did this come from?
Top: Sinuggest 'yon ni Noel, sabi niya, try mo kaya. Na-deliver naman natin at bumenta sa fans.
SBPH: And I remember, some fans even made t-shirts with "Ba-ba-ba-Balkman" on them.
Top: Nakakatuwa 'yon. Parang, 'yun 'yung effect na nagagawa mo sa trabaho.
SBPH: And then, East Asia Super League. How did you end up there?
Top: Jutt Sulit and Cedelf Tupas, 'yung kinuhang commentators, referred me to the tournament organizers. That was one of the best leagues. Organized. And of course, you've had former NBA players playing. Special kasi highly-organized. I forgot the names of the league's bosses but they were connected to Yi Jianlian. Wala akong masabi. Tsaka best of the best ng Asia 'yun eh. And siyempre wala rin akong masabi sa talent fee (chuckles).
SBPH: And then, the pandemic happened. You didn't have a fulltime work like what you said, and then sports closed. How rocked were you?
Top: Yeah. Actually, nagbalik ako sa nursing as a reliever. One week quarantine lang after the MPBL Game 2, then sabak na agad. Na-burnout rin ako ng kaunti. Kung magtutuloy-tuloy 'to, hindi kaya talaga (na walang fulltime work). Kailangan ko ng security. Konting pitching in lang. Halos tumira ako sa hospital. Around September 2020, I resigned from the private hospital then applied sa munisipyo. And then nag-aral na rin ako (for Germany). Halos one year. Until June 2021, online, and then nag-exam ako. Okay naman. Waiting na lang ako kapag dumating na 'yung recognition ko, first quarter of 2022. Visa na lang.
SBPH: How did you cope up with, say, the first three months of the pandemic dahil sobrang uncertain talaga noong mga panahon na 'yun? What was going through your mind?
Top: I really missed sports. I actually had opportunities to be the announcer for Chooks-to-Go's 3×3 circuit. I had to turn it down twice, kasi bubble. 'Yung una sa Inspire Calamba, then the next sa Pampanga. Tapos 'yun nga, I worked na as vaccinator sa munisipyo. Until tinawagan ako ni (BAVI resident spokesperson) Mark Zambrano for the Chooks-to-Go MPBL Invitational powered by TM, so sabi ko, sige, para naman maganda exit ko, kumbaga hindi dahil pandemic, nawala na lang bigla.
And then, actually, if I may just share, noong MPBL Canada in 2019, doon sa flight, parang may air emergency. Nag-attend ako. Alam mo 'yun, nagamit ko 'yung nursing ko doon, so parang sign na rin siya. To and from Canada, nagkaroon ng medical emergencies sa plane. Nag-attend ako. 'Yung papunta, may nag-seizure.
SBPH: Wow, what are the odds, 'no?
Top: Oo nga. Nag-volunteer ako. Noong papunta, actually may kasabay naman kaming tumulong, isang Chinese doctor… and then we did blood pressure and so on. I was asked a question by the captain of the flight na kumbaga, is it safe for us to go straight to Canada or turn around and go to Japan first? Sabi ko naman, 'based on my assessment, we can go'. So parang sign na rin.
SBPH: It's like you were able to use your nursing education when you least expected it.
Top: And then even sa munisipyo, of course, vaccination eh, so kailangan ng tagatawag. This was at the Copeland Gymnasium in UPLB, and ang ganda ng acoustics sa Copeland eh. Nililibang ko lang sarili ko. Maya-maya, ayun na, tumawag si Mark, nagtatanong kung ready ako.
SBPH: Did you have any idea at all na magkakaliga na ulit noon, or were you surprised Mark called?
Top: Nabigla rin ako. May liga na pala ulit. Pero halos lahat, bumabalik na eh. Parang ako na lang 'yung barker na hindi nakakabalik. So try ko nga. Kung sakali, at least kahit papano, hindi lang dahil sa pandemic kaya nawala tayo.
SBPH: What's your favorite moment in the one decade of announcing at the mainstream level… anything that stands out?
Top: Siyempre NCAA finals. The Encho Serrano and Carl Tamayo game na nag-iyakan sila as juniors noon sa Filoil. Siyempre East Asia, ABL, my first stint, mga games sa ABL. Naalala ko noon, player ng Vietnam, tinanong ko siya sa pronunciation ng pangalan niya and 'yung reply niya sakin was, 'You're the first guy who approached me to check if my name is said right'.
SBPH: This is something Rolly always preached.
Top: Tapos sa East Asia, nakita mo si Lance Stephenson, NBA players ng States, Big Al Jefferson, sina Salah Mejri.
SBPH: So here we are, your last game… what's going on through your head right now? No regrets? This is something I know you had planned for quite a while now.
Top: No regrets naman. Pero siyempre, nakakalungkot kasi bumabalik 'yung basketball dito. But at the same time, it's not for me, it's for my son. Who knows naman, in the future, baka makabalik pa.
SBPH: But your plan when you get to Germany is… long-term?
Top: Long-term as a hospital nurse.
SBPH: How would you summarize everything starting from 2005? How would you encapsulate that for your life?
Top: Dream ride come true talaga. Isipin mo, small town boy, penetrating this sports industry. Alam mo naman. Kahit papano naman siguro, nakatulong tayo sa sport ng basketball and we made our mark. Bonus na at a point, for a span of a few years, nagawa mo pang main source of income 'yung basketball. Bihira ang makagawa noon na main livelihood. Hindi naman 'to kinikilalang trabaho talaga kung tutuusin, sabi nga nila.
SBPH: So I guess, we will see you around.
Top: One for the road. What a ride.
###
Photos from Chooks-to-Go MPBL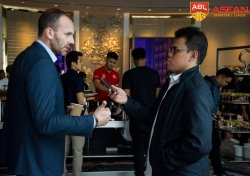 Latest posts by Levi Joshua Jr Verora
(see all)