The Filipino basketball community know Jay-R Taganas as "Baby Shaq" (which eventually became just "Shaq") since his San Beda Red Lions days in the 2000s for his burly appearance as the backup to two-time MVP Sam Ekwe.
It's Taganas' size that has enabled him to carve out a respectable career in all the leagues he's played in — with the highlight arguably being his record-setting 29-rebound performance back in the PBA D-League which equaled that of a 1975 PBA record that stands until now.
For Basilan-Jumbo Plastic Medical Depot, the 6-foot-4 center serves as the most underrated aspect of their system, not only for his size as the squad's premier slotman but also his incredible basketball IQ.
Head coach Jerson Cabiltes spoke highly of Taganas' valuable presence during the Chooks-to-Go MPBL Invitational powered by TM semifinals, where Basilan took down the Pasig Sta. Lucia Realtors, 77-72.
"Jay-R has been my player (for a long time). We won a championship together. He has an IQ of a point guard," Cabiltes said.
Taganas had a scoreless outing but hauled down 10 rebounds, while also showing the intangibles like boxing out and keeping Pasig off the glass.
In that semifinal affair, Basilan out-rebounded Pasig overwhelmingly, 56-33.
One of the highly-integral skills Taganas possesses is how he utilizes the given size advantage in beating other centers to their spots, while ensuring he helps his side complete stops on the defensive end.
"Alam niya ang ginagawa niya defensively, offensively, alam niya. He is valuable to us," Cabiltes added.
A testament to Taganas' value was underscored even more in the final against the Nueva Ecija Rice Vanguards. The big man recorded 17 rebounds, to go along with nine points and five assists.
Basilan had 20 offensive boards, which they converted to 19 second chance points. And those extra possessions mattered in a tightly-contested affair. Overall, they out-rebounded Nueva Ecija too, 56-50.
"'Yung 10 rebounds, mababa pa 'yan sa average niya. If I give him longer minutes, siguro siya ang top rebounder natin dito sa liga. Alam naman natin 'yun." Cabiltes added.
And statistically speaking, Cabiltes' claim holds true. Taganas averaged 10.4 rebounds per outing in just 22.5 minutes, which if will be adjusted to per-30 averages, he'd be hauling down 13.9 boards per game.
Throughout the tournament, Basilan led all 22 teams in rebounding with 54 per game, with their man in the middle leading the way as the fifth leading rebounder of the field.
Wing man Michael Juico, who was named to the all-MPBL selection, noted that the squad had modest expectations given that they have lost key players when they participated in the tournament, but having the likes of Taganas enabled them to push through and eventually score a seven-game sweep of the invitational.
"Hindi naman namin in-expect na nasa finals kami ngayon kasi sobrang babaw ng line-up, pero 'yung mga nakuha naming player, talagang gusto rin manalo," Juico said.
While the spotlight arguably belonged to younger guns like Encho Serrano and Philip Manalang, who of course drained the buzzer-beating, game-winning triple heard around the world, it cannot be argued that having a steady force like Taganas also mattered in the end for Basilan as they won their first title in the MPBL.
Photos from Chooks-to-Go MPBL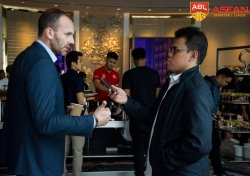 Latest posts by Levi Joshua Jr Verora
(see all)