With over three minutes left in the overtime of Basilan-Jumbo Plastic Medical Depot's exhilarating championship match against the Nueva Ecija Rice Vanguards, wing man Michael Juico fell onto the Mall of Asia Arena, grimacing in pain and clutching his legs.
He had just corralled a rebound off a Diego Dario three-point miss when apparently, both of his calves cramped in the final of the Chooks-to-Go MPBL Invitational powered by TM.
He immediately approached the Basilan bench and crossed his arms to form an X sign, signaling he wanted to be subbed out.
Finally, the Basilan staff attended to his cramping legs with 3:03 left and the tightly contested game still up for grabs at 77-apiece.
As Basilan was in their fifth game in as many days, along with playing late night matches and the core of the squad also coming off a Filbasket stint, exhaustion had finally taken its toll on Juico, especially in a final that went to extra time.
While lying on the ground, Juico held his face as he tried to weather the pain, unsure of what to happen next.
It was Stephen Siruma who took the place of Juico for the next two basketball minutes, a not so eventful stretch with only Michael Mabulac's go-ahead jumper giving Nueva Ecija an 80-78 lead.
But Juico would return in the final 52.2 seconds, determined to finish the game where his imprints were all over.
"'Yung part na 'yun, gusto ko na lang tumulong sa team talaga. No excuse kapag nasa loob ka ng court, wala kang kailangan nararamdaman, para sa team, para kay coach," Juico shared.
Perhaps adding motivation to Juico's decision aside from the coveted 2-million peso MPBL pot was the fact that Mabulac won the tournament Most Valuable Player plum.
"May motivation din. Gusto ko rin makuha 'yung nakuha niya, pero kukunin ko na lang 'yung championship talaga," Juico, who was named part of the all-MPBL squad, said.  "'Yun naman 'yung main goal namin eh, hindi 'yung individual awards. Family 'to as a team, mananalo as a team, matatalo as a team."
Basilan head coach Jerson Cabiltes added that testament to Juico's incredible desire to contribute was his willingness to stay on the floor, although he had to start the overtime period on the bench to recover first.
"He's a fighter. Hindi pa nga nagpa-pasub. Ako lang nagsabi, start of the overtime, kasi nga ayaw niya mag-pasub. Pero no choice kami," Cabiltes shared.
"Kailangan siyang palitan. Sabi ko, patreat muna niya. And then kapag okay na, if kaya niyang bumalik, sabihin lang sakin ng doctors and physical therapists namin. He's a fighter."
Entering the Invitational tournament, Juico had modest expectations for Basilan, given their taxing grind and being unable to secure others players.
Ironically, players like Mabulac and Chris Bitoon, who suited up for Basilan during their conquest of the Pilipinas VisMin Super Cup, played for the Rice Vanguards this time around.
Fortunately for the former San Sebastian Stag, the roster had the same desire as he possessed towards the end of the intense showdown.
"Siguro doon sa part na 'yun, trust na lang talaga. Hindi naman namin in-expect na nasa finals kami ngayon kasi sobrang babaw ng line-up, pero 'yung mga nakuha naming player, talagang gusto rin manalo," Juico said.
Encho Serrano first tied the match with two free throws, before Basilan made a stop on the other end. Finally, as if fate had it designed for them, it was Juico who was the designated passer in the final 1.9 seconds of the game.
And the entire Philippine basketball community already knew what happened next by now — Philip Manalang drilled the championship-clinching trey that gave Basilan the crown.
"Sa practice, ginagawa naman ni Philip 'yun. May tiwala ako sa kaniya talaga na makukuha niya 'yon," Juico said of his teammate, who went 0-of-8 from the field prior to the miraculous shot.
"'Yung game na 'yun, dine-dedicate namin kay coach dahil gustong-gusto niya mag-champion sa MPBL," he added.
The play was initially designed to be for Jaymar Gimbayan, who became open for a split second. Unable to recognize him, Juico went to the next viable option in Manalang after some defensive lapses on their opponents' side.
"Kailangan ko lang tumulong, mindset ko lang kailangan bumalik ulit kahit maka-depensa lang, kasi hindi na ako makatakbo eh. Wala na, dalawang paa ko na 'yung nagka-cramps. I need to help my teammates talaga."
Juico would finish with 15 points, five rebounds, and two assists — none bigger than the precise pass he would make to Manalang that enabled them to fulfill their MPBL destiny as champions.
Photos from Chooks-to-Go MPBL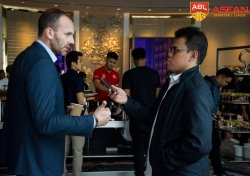 Latest posts by Levi Joshua Jr Verora
(see all)