Nueva Ecija Rice Vanguards star Michael Mabulac was named the tournament Most Valuable Player of the 2021 Chooks-to-Go MPBL Invitational powered by TM.
With solid averages of 13 PPG (54.8 percent FGs), 10.4 RPG, and 2.2 APG while leading Nueva Ecija to an undefeated record and a semifinal berth, Mabulac received the top individual honor on Wednesday, December 22 in a simple awarding ceremony before the second semis game of the tournament.
The hardworking forward also headlined the all-MPBL selection and was joined by Basilan's Michael Juico, Bicol's Mac Tallo, Imus' Adi Santos, and Pasig Sta. Lucia's Fran Yu.
Juico top-scored for the still unbeaten Jumbo Plastic Medical Depot Basilan squad, norming 17.6 PPG, 7 RPG, and 3.6 APG.
Tallo, the Bicol Volcanoes' premier scoring guard, led the team with 16 PPG, 5.2 RPG, 3.8 APG, and 1.2 SPG for a solid showing throughout.
Meanwhile, Imus Buracai de Laiya's Santos has been a key presence for the Cavite side in the interior, likewise posting double-double numbers of 11.2 PPG and 12.3 RPG while shooting an efficient 65.9 percent from the field.
Yu, the Letran standout, posted 11.2 PPG, 3.5 RPG, and 4 APG for the Realtors in six games.
Marikina Shoe City big man Ato Ular, who had been a revelation all-tournament long posting double-double averages of 16 PPG and 16 RPG, was named the Defensive Player of the Tournament.
Ular bested Caloocan's Mon Mabayo and Pasig-Sta. Lucia's Justin Arana for the distinction.
The awards were based on votes from the commissioner's office, stats group, and the members of the media covering the beat.
Photos from Chooks-to-Go MPBL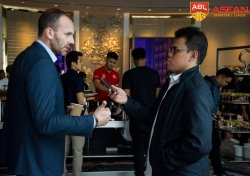 Latest posts by Levi Joshua Jr Verora
(see all)