During the 2019-2020 MPBL Lakan Season, the Imus Bandera flaunted a star-studded roster that featured the likes of Jayjay Helterbrand, Gerald Anderson, and a slew of tested veterans, only to disappoint with a lowly 6-24 record.
It was a chapter that the team, now sponsored by Buracai de Laiya, wanted to leave behind when it entered the Chooks-to-Go MPBL Invitational powered by TM.
"Nagkaroon talaga ng bad reputation ang Imus. Sabi ko sa kanila, we want to close it out and then rebuild a new one. Tapos na 'yun eh. Wala na tayong magagawa doon," head coach Manny Torralba shared shortly after the Bandera stunned the Bicol Volcanoes-LCC Malls in the tournament quarterfinals, 74-57.
Undoubtedly, it was the biggest surprise of the 13-day joust as the Aldin Ayo-coached Volcanoes were the heavily-favored squad due to its formidable roster of tested collegiate standouts, complemented by MPBL champion in Mark Yee.
Imus had just topped Group D with a 4-1 card, but still, the general consensus was that Bicol, or the rest of the quarterfinalists in general, were far more superior.
Which is why when the Bandera won the game, they celebrated ecstatically from the bench and again inside their dugouts, knowing they have overachieved.
"Going into the game, I had no pressure at all. Tanggap na namin 'yung achievement namin na pumasok sa quarters," Torralba shared. "Although kanina, nagdasal ako, na kung gusto niyo pang maglaro kami tomorrow, it's up to you. We are very thankful."
Adding fuel to the fire for Torralba personally is building a name for himself as a head coach too — while he wants to put respect back on the Imus squad's name.
"Maraming (nagsasabi) na very lowly ako, 'Sino ba 'yan?' Hindi ko na pinapansin. And I'm very thankful sa coaching staff ko. They worked hard, sobra," he said.
Prior to his arrival to Imus, Torralba handled the Sarangani Marlins as their team manager, before the Imus management approached the tactician to head the Cavite club.
"Family kami. One whole family. Matalo, manalo, andiyan silang lahat. Kung may mag-down, they pick it up. Walang iwanan," he said.
In their monumental win over Bicol, it was the veteran Leo Najorda who stole the show with a 23-point explosion on 10-of-19 shooting.
Hometown hero Ian Melencio put up a solid line of 11 points, seven rebounds, and six assists, while Adi Santos grabbed 14 boards as Imus thoroughly outplayed its opponents and capped it with an 18-6 fourth quarter, the highlight of a game-long defensive masterpiece that shut down the Volcanoes.
In the process, Torralba felt his wards were able to beat the Volcanoes in their own game by exerting more effort.
"Redemption. Maraming nagsasabi sa team namin na yes, veterans pero (may) lack of energy. Amazing, pinakita nila na may mas energy sila," he said. "Bicol is a tough team to beat. Nilagay lang namin talaga sa puso 'yung laro. (Defense) 'yung key kaya lumayo kami, and determination."
Regardless of what happens to the rag-tag squad's campaign in the next two days, Torralba is proud to establish Imus as a respectable MPBL team that should be feared by others.
It will also be their mantra as they continue their journey in the regular season slated to tip off in June 2022 as they continue to reach new heights.
"Ngayon, binabago namin 'yung image through the help of the players and coaching staff so ito talaga 'yung Imus na makikita nila until the regular season."
Photos from Chooks-to-Go MPBL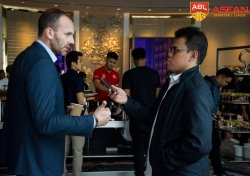 Latest posts by Levi Joshua Jr Verora
(see all)