Entering the Chooks-to-Go MPBL Invitational powered by TM, Medical Depot-Jumbo Plastic Basilan has constantly been included when it comes to the conversation for contenders.
And why not: Basilan triumphed in the first VisMin Super Cup grand finals and also participated in the inaugural Filbasket tournament.
But Basilan head coach Jerson Cabiltes knows that games are never played on paper.
Even with a Group B-leading 3-0 win-loss card in the pool stages, Cabiltes said it would still be best for the squad to let its game walk the talk amidst being penciled as a "favorite" for the competition.
"Para sa akin kasi it's either favorites or underdogs (sa tournament) and you just have to play high level each and every time," Cabiltes said.
"So 'yung tatawagin kang favorite, eh ang daming favorite, malalakas na team dito sa MPBL. Hindi talaga sure 'yun na sasabihin (favorites kayo). It's how you play the game inside the court and doon maju-judge kung ano ka talaga, how you perform. Lahat 'yun, pinag-eensayuhan."
And Basilan's Sunday, December 19 matchup against the Laguna Krah Asia Heroes perfectly highlighted the mentor's sentiments, as the club had to grind its way to hammer out a 98-95 double-overtime win.
"It just signifies na lahat ng teams dito sa MPBL tournament is strong. You need to prepare for them every game," he said. "We are expecting close games naman talaga and (this game) na-push kami to the limit."
Against Laguna, Basilan trailed, 89-84 with 1:17 remaining after MJ Dela Virgin hit a huge long-distance trey that looked to be the dagger for Krah Asia.
Even after Michael Juico cut the deficit down to just three, Basilan missed chances and appeared to be on their way to an upset loss as only four seconds remained.
Laguna's Edgar Charcos was headed to the free throw line with a chance to ice the game, and Basilan did not have any timeouts left.
Fortunately, Charcos muffed both, which led to a Jonathan Uyloan desperation heave from about 30 feet out. Kim Aurin accidentally clipped him in the arm, leading to three foul shots which the veteran all sank while under pressure, to force a second overtime, 89-all.
"This was kind of an emotional win for us. Every team is good in this league. We cannot afford to lose any games with the format. It's a learning experience," Uyloan shared after the hard-fought game, knowing that his team will have to address a few vulnerabilities in the armor.
"If other teams look at us in a high status, we cannot let teams do that to us, what happened in this game (versus Laguna)."
The 38-year-old pro who played for 10 years in the PBA also knows that because Basilan has a "contender" reputation, teams are also consciously going after them to try and take them out of the competition — something that adds more pressure.
"It got a little bit harder for us because of the VisMin Cup and Filbasket status. And we lost key players. We had less than a week or two preparation for the MPBL and we had new players," the 6-foot guard said.
"We can see their hunger and passion. But, we have a lot of plays so it's really hard for them; we are still trying to gel, learning each other's (tendencies). It may look like that on paper but we are still trying to find ways to win."
Of course, the likes of Uyloan, Jay-R Taganas, and Jay Collado are just some of the key names for the team that provide the much needed maturity it needs to be able to make a deep run in the tournament.
"Today was a good measurement of that. I myself was kind of rattled in the fourth quarter because of how the game went," Uyloan admitted. "But just hearing Jay Collado and the coaching staff saying we've been there before, you get reminded like oh yeah, we've been there before and we've been through a lot this year."
And if Basilan is to prove it really belongs to the powerhouse squads in the league, that same experience will be needed to separate them from the pretenders.
"We've been through a lot of pressure … you just get this confidence. It's all experience — it's an intangible thing when you hear it and we all just get focused and come out with a win even though it was a close, crucial game," Uyloan closed.
Photos from Chooks-to-Go MPBL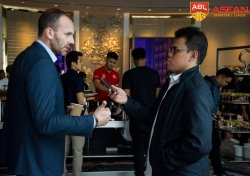 Latest posts by Levi Joshua Jr Verora
(see all)