Just like everyone else, GenSan Warriors combo guard RJ Ramirez was forced to maneuver his way amidst the global health situation to put food on his family's plate.
Coming off a lengthy stint with the Bacoor Strikers in the 2019-2020 MPBL Lakan Cup, The Fil-Canadian guard went back to Canada when the coronavirus pandemic struck in early 2020.
"I went home to Canada for six months to work a regular job because I have a family and a kid so I had to support. That's what I had to do," Ramirez said.
In the process, Ramirez had to be away from his family, who is based in Cavite to make ends meet.
"Of course, I missed my family and I wished I could be with them, but it's a sacrifice; you got to do what you got to do."
It wasn't that an ideal of a situation, but something the 27-year-old player had to do in the mean time.
"It was basically labor, like offloading and loading trucks, cargo and stuff. That's a sacrifice. I did that because I needed money," Ramirez shared.
"But I was still training, finding ways to train but it wasn't where like your mind is a hundred percent on basketball."
It was only until a former teammate reached out to the former Far Eastern University Tamaraw that made him return to Philippine soil.
"When I found out there (were) leagues starting again, I went back. I was lucky enough to land on a team," Ramirez said. "My ex-teammate called and said they needed a guard so come practice with us. I was able to get a slot on the team, we won a championship."
Of course, Ramirez suited up for the AICC Manila squad which went on to bring home the inaugural Filbasket championship back in November, although he was seldom used in the lineup.
Then, as if destiny aligned with him, Ramirez found a way to the Chooks-to-Go MPBL Invitational powered by TM for the Warriors' roster.
"I am thankful for GenSan for picking me for this tournament," the Mississauga, Ontario native said.
"I had to go home for six months because of the pandemic and came back because there's basketball again. I am thankful for all the leagues for us to be able to make some money and work."
Ramirez's finest performance in their five-game schedule in the Invitational would come against the Bulacan Kuyas last Saturday, December 18.
He fired a personal tournament-high of 22 points in a 90-82 upset win over the Bulacan Kuyas.
Ramirez top-scored for his previously winless team, helping them to finally break into the win column even if they are already out of contention in the FIBA-style tournament.
"Just thankful for the win. I wish we just started the tournament strong like this," Ramirez, who was supported by Pamboy Raymundo's 18 points and seven assists, shared on Saturday.
In five outings for the Warriors' recently-concluded run in the tournament, Ramirez put up solid averages of 11.2 PPG, 2 RPG, 2.6 APG, and 1.2 SPG in more than 22 minutes per outing, showing that he can thrive under any system when given the chance to shine.
This is a stark contrast from his collegiate days. Understandably, the FEU basketball program has produced some of the biggest names when it comes to backcourt players throughout the years.
The long list of prominent guards that played for the 20-time UAAP champions in recent memory that have carved out respectable careers in the pro ranks includes Terrence Romeo, RR Garcia, Denok Miranda, Jeff Chan, and Mike Tolomia.
Ramirez's career with the green and gold overlapped with the likes of Ron Dennison, Wendell Comboy, Monbert Arong, Hubert Cani, Alec Stockton, and Jasper Parker, so the guard wasn't utilized that much in a stacked backcourt rotation.
"I feel like that stage in FEU  kind of helped my drive even more, just trying to prove myself. Work doesn't stop, so I'm always trying to get better," he said.
Even before the pandemic, Ramirez already showed potential, averaging 8 PPG (33.8% threes), 2.4 RPG, and 2.7 APG in 35 appearances for the Bacoor Strikers during the MPBL Lakan Cup, which included 21 starts.
Ramirez was adamant that he'd never take his eyes off basketball even amidst the extraordinary circumstances. Inspired by his family and fueled by bigger dreams he has, he was just waiting for his own signature moment all along — and his sacrifices finally paid off.
"I just felt that whenever the pandemic was done, I know basketball's going to return so I just stayed ready. I am never giving up on the dream because I am still trying to make it to the PBA," he said.
Photos from Chooks-to-Go MPBL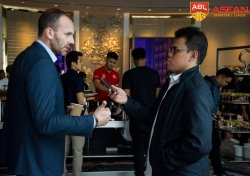 Latest posts by Levi Joshua Jr Verora
(see all)