It is no question that the Chooks-to-Go MPBL Invitational tournament currently being played at the Mall of Asia Arena is only one of the many plans lined up for the professional basketball league ever since the popular roast chicken food chain company took over its operations.
After the 13-day FIBA-style tournament, commissioner Kenneth Duremdes bared that the MPBL has plans to hold a preseason tournament around February of 2022, and eventually the regular season which traditionally opens on June 12 — or Philippine Independence Day.
Asked about the possibility of working on a women's league, no less than MPBL founder, Senator Manny Pacquiao, said the MPBL is pretty much open to the suggestion.
"'Yung mga kababaihan, puwede naman silang isali rin. Mag-ano rin tayo ng MPBL women's basketball," Pacquiao said during the opening day of the Invitational last Saturday, December 11.
And if there is one coach who would definitely appreciate the development, it would be current Manila Stars head tactician Cholo Villanueva.
"That's great news. There are a lot of talented women's basketball players from the Philippines and they are just not given the exposure or opportunity to showcase their talents," said Villanueva after the Stars waylaid the EMKAI Rizal Xentro Mall Golden Coolers on Monday, 89-59.
"If Chooks-to-Go gives this opportunity to women's basketball in the Philippines, it will be very big and I'm sure it will have a following."
For the longest time, Villanueva handled the De La Salle women's basketball program, which have been perennial contenders in the UAAP in the last decade.
Many players under Villanueva's helm have also flourished after their collegiate ranks, like Camille Claro, Khate Castillo, and Snow Penaranda who are all playing in the WNBL — the only professional women's basketball league in the country so far.
With FIBA monitoring MPBL's operations ever since the league turned pro, it would be interesting to see if aside from the main league, 3×3 and women's basketball would also be accommodated to further grow the sport in the country across all sectors.
And Villanueva, a long-time advocate of the women's game, believes a potential WMPBL would undoubtedly be relevant.
"Women players are very skilled players. They're fun to watch. They're very entertaining. They would have a fanbase and a market for women's basketball. That's really big news for us," he said.
Photo from Chooks-to-Go MPBL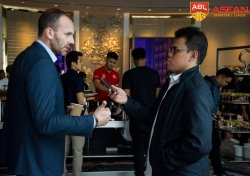 Latest posts by Levi Joshua Jr Verora
(see all)