Throughout the recent history of Philippine football, both the men's and women's squads have delivered on key milestones, with an AFC Asian Cup appearance back in 2018 being one of the best highlights that resonated among football fans.
On Tuesday, December 14, the Philippine Azkals will battle Southeast Asian powerhouse Thailand in the 2020 AFF Suzuki Cup hosted by Singapore, and all eyes will be on how the Philippine men's national football team will fair against the five-time AFF champions.
With the Azkals needing a victory to boost its chances of making the semi-finals of the regional meet, the upcoming match's significance in the country's storied football history is being hyped all the more, so much so that securing a win over Thailand would be a moment that will be cemented in Filipinos' sports history.
"We have to be realistic. A tie against Thailand would be nice, but getting the three points against Thailand would be one of the greatest feats to happen in our football history," said David Abella of the Eat, Sleep, Breathe Football podcast.
A win over Thailand have always eluded the Azkals in the biennial tournament. The War Elephants have never lost to the Azkals in the AFF Suzuki Cup.
In the previous edition of the cup last 2018, the Azkals held the Thais to a 1-1 draw, with Jovin Bedic being the goalscorer.
Back in 2014, when the Azkals hosted the first leg of the two-match semi-final tie against Thailand, they played to a scoreless draw — which in retrospect would have set up a big moment in history should the Philippines have scored an away goal on Thailand's home turf.
The Azkals are coming off a good morale-boosting win in the form of a 7-nil demolition of Timor Leste, which could possibly come in handy against Thailand, mental toughness-wise.
"It was satisfying. The cracks are still there but I think we were able to fix it, because of the Singapore game," Abella added.
"It's a big one, because they needed the confidence and energy coming from the victory (over Timor Leste). They have to be united as a unit."
The Azkals are in a unique situation, with only three points in Group A following a slim 2-1 loss to Singapore earlier in the group stages.
And now, the men's national team will now have to overcome the Thailand roadblock with both history and the AFF Suzuki Cup semi-finals in mind.
There are likely no detours, as if the football gods had set it up — and there is potential for it to be added to the most relevant moments in the country's recent football history.
Photo from The Azkals Facebook page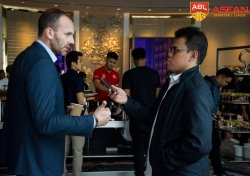 Latest posts by Levi Joshua Jr Verora
(see all)