Those who know head coach Aldin Ayo good enough understands he hates losing.
"I hate to lose. Of course, every time you go into a competition, you want to win," the Bicol Volcanoes chief tactician said on Sunday, after his squad finally scored its maiden win via an 80-68 beating of Laguna Krah Asia at the Mall of Asia Arena.
Just hours earlier, the Volcanoes faltered in their debut, losing at the hands of a powerhouse Jumbo Plastic Medical Depot Basilan squad which had the likes of Michael Juico, Jonathan Uyloan, Jay-R Taganas, and Jay Collado.
But Ayo insists the opening day loss in the Chooks-to-Go MPBL Invitational became a great learning experience for the squad, and that losses in general provide more perspective on what to improve for his troops.
"That game was an eye-opener for us. We like the schedule, on our first game, we're playing against Basilan which won two championships in other tournaments," he said.
"We're still a work in progress. Halos two weeks lang kami nag-ensayo, so right now, we are still trying to instill the system at this stage."
The biggest difference from the two games they played was how the Volcanoes shared the ball better in their win over Laguna, making 23 assists.
They also shot less triples, from 50 down to 35 attempts for a more efficient 31 percent clip.
These are the little things Ayo wants his team to continue to instill within themselves, in a short tournament where all games are of significant value.
And the multi-titled collegiate champion coach is optimistic the squad can get the job done — one game at a time.
"Hopefully, as the tournament progresses, mag-improve kami nang mag-improve," he said. "It's part of the job. Winning and losing. What's important is you do your best. We learn from (losses). Actually, we don't lose, we just learn. But I learn more every time I lose. We just have to be optimistic and positive. We just continue moving on and learn."
Photo from Chooks-to-Go MPBL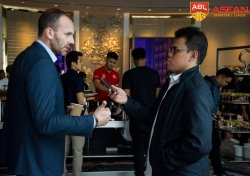 Latest posts by Levi Joshua Jr Verora
(see all)