ONIC PH bounced back from an opening loss and beat Todak Malaysia and Keyd Stars of Brazil to claim the top spot in Group B of the Mobile Legends: Bang Bang (MLBB) M3 World Championship on Tuesday in Singapore.
The other Filipino representative in the worlds succumbed to ONIC Indonesia in their first assignment, but made up for it with decisive victories over the next two opponents to likewise rule their group like Blacklist International did yesterday.
Against the Brazilians, ONIC PH capitalized in pushing early on, taking away three turrets before an aggressive top side lane push that killed three opponents in the 9th minute enabled them to a 5-1 turrets lead on top of a 5-1 kills lead.
The three-kill sequence was highlighted by a double kill from Markyyy, who was using Popol & Kupa while Hatred's Pharsa provided the support.
ONIC PH would dominate towards the end, winning 10-1 with a 9-1 final lead in turrets destroyed in the 12-minute match. Markyyy scored a 4-0-2 KDA while Dlarskie (Uranus) led in gold with 9,155 as he was named game MVP.
The Filipinos did the same trick against Todak. Bannered by the marksmen tandem of Natan (Kairi) and Beatrix (Hatred), the squad raced to an 8-2 turrets destroyed lead en route to demolishing the Malaysian reps.
Hatred led in the second game with a 9-3-1 KDA while Baloyskie garnered 11 assists using Rafaela.
The only blemish for ONIC PH was against ONIC Indonesia, when the latter pulled off a stunning comeback towards the end.
ONIC PH had control of the match for quite the entire time, but the Indonesians stole the Lord in the 19th minute, while wiping out four opponents to set up the final push.
Both ONIC PH and Blacklist International will be in the upper bracket come the playoffs of the tournament.
Screengrab from Mobile Legends YouTube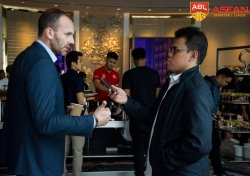 Latest posts by Levi Joshua Jr Verora
(see all)