Host squad Singapore stunned the Philippine Azkals with consecutive second half goals before holding them off for a slim 2-1 victory in the AFF Suzuki Cup 2020 group stages on Wednesday at the Singapore National Stadium.
After an eventful but goalless first half, Singapore scored twice in a three-minute span past the one-hour mark to abruptly push the Azkals behind.
Hariss Harun made the breakthrough goal via a header in the 61st minute, after a corner kick was initially headed by Safuwan Baharudin before Harun would punch to the back of the net.
Just three minutes later, Faris Ramli doubled the Singaporean lead on a counterattack that was kickstarted by Zulqarnaen Suzliman who would dish out a brilliant cross to the winger.
Undaunted, the Philippines would pull closer on a surprise Amin Nazari header in the 69th minute, assisted by a corner kick from Kevin Ingreso to inject life into the Azkals' in-game chances.
However, the Lions were able to preserve the lead for the full three points.
With the win, Singapore became the runaway leader in Group A with six points. They previously beat Myanmar, 3-0.
The Azkals will try to bounce back when they face Timor Leste on Saturday, December 11.
Photo from AFF Suzuki Cup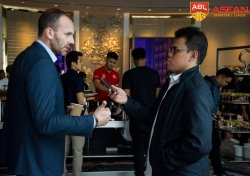 Latest posts by Levi Joshua Jr Verora
(see all)