1,118 total views, 2 views today
Kiefer Ravena continued his winning ways in the Japan B.League, powering the Shiga Lakestars to a decisive 95-72 win over the Kyoto Hannaryz on Sunday in the 2021-22 regular season.The Lakestars leaned on its strong 28-10 third quarter onslaught to break the game wide open and repeat over Kyoto, which it beat narrowly, 84-83 just yesterday.
Ravena was a steady presence, finishing with a productive line of six points, four rebounds, and three assists.
With the win, Shiga has now won four straight to climb to the top of the West District team standings with a solid 5-1 card.
Niigata Albirex BB loses steam
Meanwhile, Kobe Paras' big game was spoiled as the Niigata Albirex BB couldn't sustain its momentum and fell towards to end to Levanga Hokkaido, 72-69.
After absorbing an 88-75 blowout yesterday, Albirex engaged in a more deliberate and low-scoring defensive game to upset the opponents.
However, it was Hokkaido who managed to repeat, despite Paras' team-high 18 points on 50% shooting, which included three treys.
Thirdy's struggles continue
Unlike his brother, Thirdy's weekend unfortunately didn't end on a good note, as his San-En NeoPhoenix faltered anew to the Hiroshima Dragonflies on the road, 84-72.
The wing man did finish with 12 points, two rebounds, and two assists, but shot only 1/8 from three-point area.
San-En couldn't sustain its hot first quarter start, where it led by seven. Hiroshima went on to outscore the visiting club, 48-34 in the second half.
Shiga Lakestars photo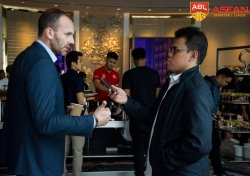 Latest posts by Nguyễn J. Văn Linh (Levi Verora)
(see all)