Thirdy Ravena's San-En NeoPhoenix avenged its Saturday loss, fighting back to beat Kiefer's Shiga Lakestars in overtime, 101-96 on Sunday in the Japan B.League 2021-22 season at the Ukaruchan Arena.
In a reversal of roles, it was the NeoPhoenix which climbed an 18-point hole to deal revenge to its previous 93-83 loss just yesterday.
Thirdy scored a game-high 21 points including three triples and added seven rebounds and five assists to carry San-En. His squad outscored the Lakestars, 35-24 in the fourth and overtime periods combined.
Import Elias Harris added a double-double of 18 points and 10 boards while Robert Carter contributed 17 markers.
Kiefer paced Shiga with 20 points and seven assists, shooting a perfect 9/9 from the free throw line. Ovi Soko tallied 20 markers as well and grabbed 12 rebounds.
Shiga appeared to be on the verge of sweeping the two-game weekend series after going up, 51-33 late in the second quarter, before a 12-0 run from the visitors cut the deficit right away down to just 51-45.
Harris made the game-tying basket with over a minute in regulation, 85-all as both teams then missed opportunities. San-En then went on a 7-0 run capped by a trey from Carter in the extension to seal the victory.
San-En NeoPhoenix Facebook photo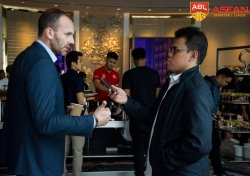 Latest posts by Levi Joshua Jr Verora
(see all)