By Brian Yalung and Henry Liao
Looking back at the sports clippings from yesteryears, it turns out that something interesting happened in the PBA in 1985.
It turns out that on Oct. 1, 1985, was the first time that PBA legend Ramon Fernandez saw action for the Tanduay Rhum Masters in the PBA Reinforced Cup.

The Rhum Makers were set to face a Norman Black-led Magnolia team that day at the ULTRA or now known as the PhilSports Arena in Pasig City.
Fernandez would be making his debut against Magnolia Quench Plus following a trade that involved Alberto "Abet" Guidaben.
In the news report from Bulletin Today, Fernandez had just been traded by Manila Beer to Tanduay for Guidaben. The move was seen as a bid by Tanduay to get out of the cellar. At that time, the Rhum Makers were toting a 1-5 win-loss record alongside Shell Azodrin.
According to veteran journalist Henry Liao, after a sensational year with new team Beer Hausen (following the demise of Toyota) in 1984 during which he nearly averaged a triple-double and posted 25 triple-doubles, Fernandez was unable to lift Manila Beer to a top-four finish in both the Open (1st) and All-Filipino (2nd) conferences.
Fernandez was shipped to Tanduay in exchange for Abet Guidaben four games into the Reinforced (3rd) Conference. Fernandez got into trouble with the Brewmasters because management felt the 6-5 center had played below par despite averaging 19.1 points and 9.0 rebounds in 30 games.
Maybe because Manila Beer's play often was not concentrated on him. There was Atoy Co, the 1979 PBA MVP who hit at a 13.1-point clip, and strongman Yoyong Villamin (13 ppg).
The last straw that broke the camel's back was his subpar effort during the All-Filipino quarterfinals. He was benched for only the second time in his pro career in MB's first game in the Reinforced Conference. Then came the trade.
Fernandez played just seven games with Tanduay Rhum and averaged 22. 1 ppg and 8.1 RPG.
"El Presidente" still made the All-PBA Second Team in 1985. In 1986, he won his third PBA MVP plum with the Rhum Makers.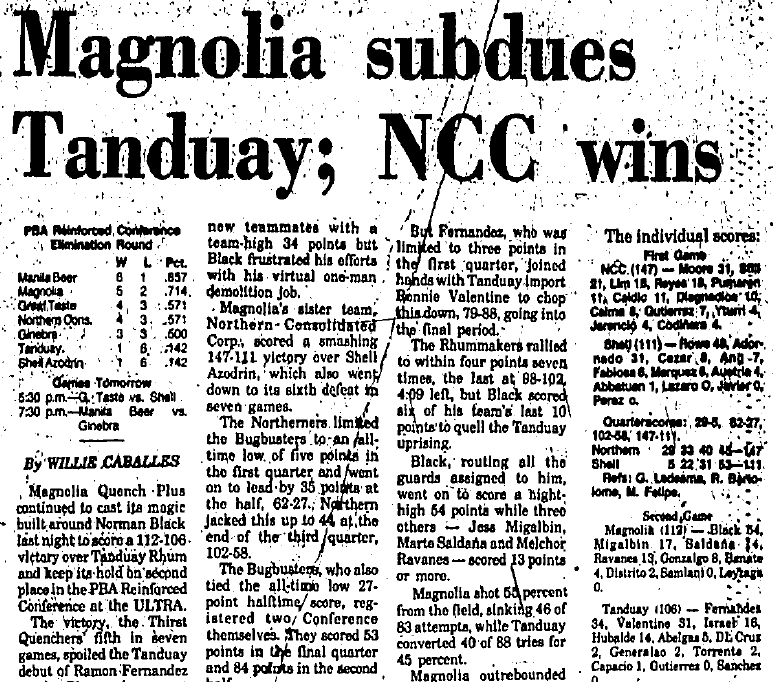 As for the result of that match, Tanduay lost to Magnolia to the tune of 112-106.
Norman Black led the way for Quench Plus with 54 points. He was backed up by Jesse Migalbin with 17 points while Marte Saldana and Melchor Ravanes chipped in 14 and 13 points respectively.
Fernandez debuted with a game-high 34 points for his new team and saw action for the whole 48 minutes. "The Franchise" was limited to only three points in the first quarter during that game.
However, the PBA icon joined hands with then-import Ronnie Valentine to rally the Rhum Makers in the second half.
Valentine backed up Fernandez with 31 points in that game. Padim Israel chipped in 16 points while Freddie Hubalde had 14 markers in the report by the late Willie Caballes on the Bulletin Today.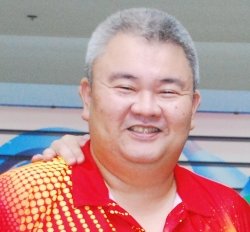 Latest posts by Brian Yalung
(see all)