A full-strength Team Rebisco roster wasn't enough as Iranian club Saipa Tehran repulsed the Philippines in four sets in the 2021 AVC Asian Women's Club Volleyball Championship on Sunday in Thailand.
Despite the returns of Aby Marano and Eya Laure, as well as Dindin Santiago-Manabat's presence, Rebisco was still unable to clinch a maiden victory for the Filipino representatives as they settled for a 26-24, 22-25, 25-13, and 25-17 loss.
After the two sides split the first two sets, the Iranian club flipped the switch in the third frame, racing towards a double-digit lead to take it, 25-13.
Then, in the fourth set, Saipa Tehran looked sharper again on offense, maintaining a good advantage all the way home.
Head coach Jorge Souza de Brito's wards took the second after Michaela Belen and Santiago-Manabat closed it on back-to-back spikes.
Saipa Tehran committed nine errors in the second frame, allowing Rebisco to snatch its first set of the entire tournament.
Rebisco had a chance to snare the opening set as well, reaching set point first at 24-23 but three consecutive attacks enabled the Iranians to take the first.
With the loss, Rebisco slid down to the fourth seed in Pool B, and shall battle Pool A's no. 1-ranked Nakhon Ratchasima QminC on Monday.
On the other hand, Choco Mucho, which finished 0-2 in the elimination round, will face Pool B's no. 2 seed Supreme Chonburi.
AVC photo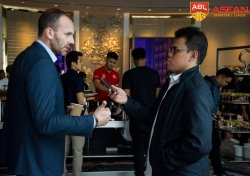 Latest posts by Levi Joshua Jr Verora
(see all)