The Japan B.League debut of Filipino star Ray Parks Jr. will have to wait as he sustained a muscle injury, his club Nagoya Diamond Dolphins announced on Saturday ahead of its clash against Hitachi Sun Rockers-Shibuya.
Parks, loaned from TNT Tropang Giga, was signed by Nagoya earlier in the year and has been participating in team activities since September.
【お知らせ】
この度、#レイ・パークスジュニア 選手が練習中に負傷し、以下の通り診断されましたことをお知らせします。

なお、今節の #サンロッカーズ渋谷 戦は、大事を取ってエントリーから外れますが、チームに帯同しております。

診断名:筋損傷
全治:未定 pic.twitter.com/peY3q4NVs4

— 名古屋ダイヤモンドドルフィンズ公式 (@nagoyadolphins) October 2, 2021
The 6-foot-5 wing man will be out indefinitely while other Filipino imports like Dwight Ramos, Kemark Carino, and Javi Gomez de Liano also await their debuts due to healthy and safety protocols.
Nagoya Diamond Dolphins photo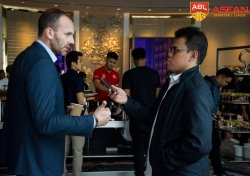 Latest posts by Levi Joshua Jr Verora
(see all)