Kiefer Ravena impressed late in his Japan B.League as the Shiga Lakestars used a strong fourth quarter rally to storm back and stun San-En NeoPhoenix, 93-83 on Saturday at the Ukaruchan Arena in Otsu, Shiga.
The Lakestars relied on Ravena's exploits in the fourth period where they outscored San-En, 30-9 to erase a 22-point deficit and win their 2021-22 season opener.
Making his debut after securing a release from the NLEX Road Warriors and the PBA, Ravena scored 11 points, grabbed three rebounds, and dished out nine assists in close to 26 minutes of play coming off the bench.
In the process, the 27-year-old combo guard bested his younger brother Thirdy in the Ravenas' much-anticipated duel. Thirdy would up with 11 points, six boards, and two steals.
A blistering 19 unanswered points to open the fourth gave the Lakestars an 82-74 cushion, stunning San-En as Kiefer went to work offensively by scoring and creating shots for his teammates.
San-En previously opened a 45-25 lead in the first half, and appeared to be on the verge of an easy victory before Shiga made a huge run.
The Thirdy-Kiefer match-up has been the subject of hype and intrigue in the past few weeks, as it was the brothers' first-ever game against each other as pros.
Shiga even made entry to its home stadium free for Filipinos for the back-to-back outings. The two sides will collide again tomorrow, Sunday.
Shiga Lakestars Facebook photo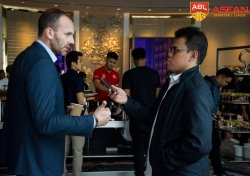 Latest posts by Levi Joshua Jr Verora
(see all)