Former PBA import Vernon Macklin says he would have accepted naturalization if an offer existed years back.
According to a report by PhilStar's Quinito Henson, the charismatic big man said playing for another country if a formal offer was presented to him.
"Maybe, four years ago, if I was offered to play for a national team as a naturalized player, I would've done it," the 35-year-old center said in the report, citing another fellow PBA reinforcement, Ricardo Ratliffe, as an example.
"Look at Ricardo Ratliffe playing for Korea. He's not playing for a paycheck. Ricardo stands up for Korea and I remember him telling me how much he loves the KBL, so why not play for the country?"
Ratliffe, now known as Ra Guna for the Korean national squad, has been the country's go-to center.
Macklin is best known for his stint with Barangay Ginebra, as well as the Magnolia Hotshots.
In a way, the former NBAer did get a shot to represent the Philippines via the Jones Cup when he played for the Mighty Sports club and won gold alongside other imports.
In the report, Macklin also mentioned LA Tenorio and Rafi Reavis as his best teammates in the PBA, while also heaping praise for the league.
"I'll never forget the Filipino fans, probably the best in the world. That's where I was called Big Mac. The PBA's highly competitive, a lot of talented players," he said.
"They're in your face during a game but after, it's all cool, we're friends again. I respect the PBA referees, they were never a problem."
It would be interesting in retrospect to see how things could have been if it was Macklin, and not Andray Blatche nor Marcus Douthit, donned the Gilas uniform for other international competitions.
PBA Images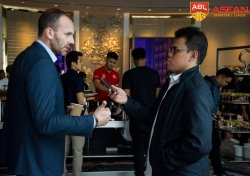 Latest posts by Levi Joshua Jr Verora
(see all)