Filipina basketball star Jack Danielle Animam will play for Serbian top-level club ŽKK Radnički Kragujevac in a landmark announcement made by her management group, East West Private on Monday night.
Animam is slated to fly to the women's basketball hotbed on Friday, as the top division of the First Women's Basketball League of Serbia will begin in September. The season will last up to April in 2022.
"I am just so happy, proud and honored that I've come this far. I just can't take my support group, EWP, the people behind this, it's so overwhelming right now. I am super excited. I just can't wait to go out there and play with them," Animam said during the press conference.
The 6-foot-2 former National University Lady Bulldog is a multi-awarded and many-time UAAP champion, part of the undisputed NU women's basketball dynasty.
"Having amazing women by my side, trail-blazing women, it really motivates me. I can really make something out of it. This is my passion and I would love to see women's basketball in the Philippines to take it to another level, like compete in the Olympics or even the World Cup. I know kayang-kaya ng women's basketball sa Pilipinas," Animam added.
The 22-year-old big continued her basketball career playing in Taiwan for one season, before heading to Atlanta in the United States to train as she planned charting her next move.
Radnički Kragujevac head coach Nenad Milovanović is elated to have Animam in the squad, looking for leadership and at the same time younger and more mobile players.
"We are looking for young players for the post. I was so excited to have a chance to get her for my team. We are very young and have two or three older girls. Jack seems to be a great player here. She is fast for her position. I think she can play with anyone in this league, and she can guard anyone in this league," Milovanović mentioned.
The squad finished only with a 7-15 win-loss record in the 2020-2021 season. The team is aiming to improve their performance with Animam at helm.
"My leadership, wherever I go, I am really vocal. I can bring my leadership, I am more of a defensive player, so I will bring those, getting those easy buckets and putbacks, just being there with my teammates and supporting them, being the role player that I am," Animam added when asked about what she can bring to the roster.
The decision of Animam to take her talents to Serbia does not mean she will be relinquishing duties for Gilas Pilipinas Women, as she remains very much open to representing in the country in international competitions.
"My heart and passion will always be with the national team. I am hopeful that the European schedule will always be favorable with FIBA events. With my team, I respect their decision … but I am very open to play," she vowed.
National team head coach Pat Aquino praised Animam for her move, saying she is blazing the trail for the next generation and is becoming a source of inspiration.
"This is an achievement celebrated by many young Filipina ballers right now. What we did in the past in 2019, by winning the first SEA Games gold medal, it's an achievement already with Jack with us," he said.
"She is paving the way for the next generation of Filipina ballers … I hope that Jack would be there always to represent the country."
Serbia is a powerhouse in women's hoops, having won the 2021 EuroBasket Women title. The nation is also a constant Olympic contender and has produced several WNBA players like Ana Dabovic, Jelena Brooks, and Sonja Vasic.
FIBA.basketball photo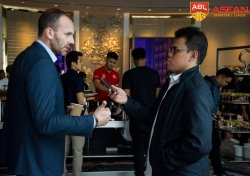 Latest posts by Levi Joshua Jr Verora
(see all)