Gilas Pilipinas supporters were treated to a spectacular showing from the national team on Wednesday (Thursday early morning in Manila) as they fought valiantly before losing to Serbia, 83-76 in the FIBA Olympic Qualifying Tournament in Belgrade.
Netizens all expressed their admiration for Gilas, which came into the game battle-ready and gave a challenge to the world's no. 5-ranked squad.
Gilas briefly took a 74-73 lead in the fourth quarter, although bad breaks costed them the game.
Nevertheless, it was a performance no one expected given the disparity in ranking and having a cadet-laden team that is only making the most of the opportunity presented.
Basketball personalities, reporters, celebrities, and more netizens all heaped high praise for the squad for being able to withstand a strong Serbian side bannered by Boban Marjanovic and Milos Teodosic.
The hosts 🇷🇸 @KSSrbije had to battle for real tonight!

Hats off to a fierce 🇵🇭 @officialSBPinc team 👏🏻#FIBAOQT

— FIBA (@FIBA) June 30, 2021
Lakompake, sulit puyat sainyo. Nakakaproud kayo! 🇵🇭

— Mikee (@_mikeereyes) June 30, 2021
Grabe parin kayo, Gilas! Ang sarap maging Pinoy!

— Thirdy (@ThirdyRavenaaa) June 30, 2021
Mighty proud that we took the lead, and went this close to beating Serbia. Bright, bright, bright future for this team. Keep them together please! #LabanPilipinas 🇵🇭

— Gretchen Ho (@gretchenho) June 30, 2021
gilas young guns hanging w serbia til the end, playing with absolutely no fear. love it! 💪

— bestfriend korics (@ricoblanco) June 30, 2021
Kept the country up. Also, woke up the world. 🇵🇭 pic.twitter.com/b9utgmEZD9

— Polo Bustamante (@polo_bustamante) June 30, 2021
The correct answer to the question "Who will end Tab Baldwin's winning streak?" is apparently Serbia. 😂😂😂

— Carlo Pamintuan (@carlo_pamintuan) June 30, 2021
Who would have thought? We almost took down Serbia with kids.

I'm ready to see more. Dominican Republic tomorrow. Walang tulugan ulit!

— Paolo del Rosario (@paodelrosario) June 30, 2021
taas noo Gilas Pilipinas!!!

2016 Olympic silver medalists & world rank no. 5 lang naman yun Serbia 😬

🇵🇭🏀🇵🇭🏀🇵🇭🏀🇵🇭🏀🇵🇭

— Magoo Marjon (@magoomarjon) June 30, 2021
Incredible performance by Gilas vs Serbia mins ago, Gilas led 74-73 with 3:42 left & Serbia up by only 1 with 1:57 to go! Gilas lost 83-76 but showed its heart, guts & pride! The loss was a win for honor! Gilas had more FTs 11-6, steals 12-4, FB pts 11-2 & same 3s & assts! Wow!

— Quinito Henson (@TheDeanQuinito) June 30, 2021
Great experience forcoach Tab & this young #GilasPilipinas team. This game reminded of the 2014 FIBA World Cup when @coachot and his team with @JAlapag3 & @GNorwood5 put on a excellent show and almost beat Argentina 🇦🇷 Basketball in 🇵🇭 is more than passion, it's the way of life.

— Josh Bett 🏀🎙🇪🇺 ‎ (@JoshBett1) June 30, 2021
Young boys keeping it close

— Chris Ross (@cmross6) June 30, 2021
For a few mins in the 4th, Im sure we entertained thoughts of a win against mighty Serbia. And Gilas had a good shot. Proved again that for as long as we play the right way, we can compete vs the best. Proud of these young men. This is one loss that felt like a win. Laban 🇵🇭

— Noli Eala (@NoliEala) June 30, 2021
Grabe tong team na to! pic.twitter.com/IhX1rOhtSN

— Chot Reyes (@coachot) June 30, 2021
FIBA.basketball photo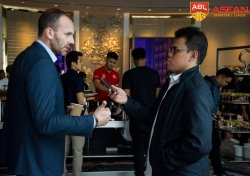 Latest posts by Levi Joshua Jr Verora
(see all)