It appears the "lucky shot" remark by Korea's head coach has drawn the attention of no less than Gilas Pilipinas head coach Tab Baldwin.
In the post-game press conference after the Philippines beat Indonesia on Friday, 76-51 in the 2021 FIBA Asia Cup qualifiers third window in Pampanga, the veteran mentor was quick to point out what mindset his team will have entering Sunday's rematch against their Asian arch-nemesis.
"We're not going out on the court to lose. In fact, we've already read that the Korean coach felt that we were lucky to win the game," Baldwin noted.
"Frankly, I think that's pretty rich of any coach to walk off a game in which you lose the game and claim that it was good luck on the part of your opponent."
Gilas won over Korea on Wednesday in the most thrilling of ways, when SJ Belangel hit an off-balanced, one-foot bank shot at the buzzer for an 81-78 victory.
After that game, Korean head coach Cho Sang Hyun quipped that Belangel's game-winner was a "lucky shot".
"We will make sure that is highlighted, and I'm sure that will give our players a little extra incentive and I don't expect that we will be going out there to make friends on Sunday," Baldwin added, seemingly warning the Korean side for the unnecessary comment that was made.
The tactician added Gilas is using the qualifiers to get more experience, especially that the team is preparing for the FIBA Olympic Qualifying Tournament and the FIBA Asia Cup proper in August.
Furthermore, the cadets part of the roster right now will definitely vie for slots in the World Cup 2023 final 12, and developing battle-ready players is also a long-term priority for the nationals.
"We only have one mindset right now and it's the same one we have been talking about for a long time. We have dual priorities," Baldwin said.
Gilas and Korea will face in the latest chapter of their long-storied continental basketball rivalry on Sunday at 3:00 p.m.
FIBA.basketball photo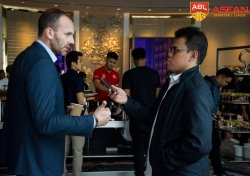 Latest posts by Levi Joshua Jr Verora
(see all)