The steady play of Gilas Pilipinas' young guards has earned the respect not just of PBA and former national team senior players, but also of Indonesia's Andakara Prastawa Dhyaksa.
The Philippines beat Indonesia, 76-51 on Friday with RJ Abarrientos again showing his exploits.
The Far Eastern University product scored 9 points and dished out 6 assists, playing close to 16 minutes while being able to do several things on the floor.
He knocked down a triple and scored on drives to the basket; and when he attracted the defense, he set up his teammates beautifully.
"For sure, the senior guards are more experienced and tougher than these guys, but I think they will be good enough to match their seniors. They are good," Dhyaksa said after the game.
The Indonesian playmaker had 8 points himself, including two treys. Having the first-hand experience to go up against the likes of Kiefer Ravena, Chris Ross, Stanley Pringle, and more during the 2019 Southeast Asian Games, Dhyaksa was able to offer a comparison and spoke highly of the Gilas point guards.
SJ Belangel made a name for himself too, when he hit a game-winning, buzzer-beating heave against Korea two nights ago.
In the long run, Gilas head coach Tab Baldwin will likely be utilizing the two guards for future campaigns, and having them exposed and playing pros this early will only do good for the program.
"The one word that kept coming to my head in the first half was discipline. We really lacked self-discipline and we lacked the discipline or the culture that we are working very hard to establish," Baldwin said of a tentative first half for Gilas where it only led, 30-22 before settling down in the third quarter.
"Without that, we are pretty ordinary. We don't want to be ordinary. We want to be elite. We want to deserve to be an international basketball team that people will respect."
FIBA.basketball photo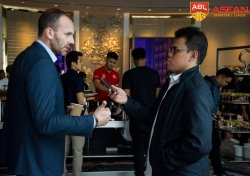 Latest posts by Levi Joshua Jr Verora
(see all)