1,294 total views, 2 views today
Gilas Pilipinas completed a six-game sweep of the 2021 FIBA Asia Cup qualifiers after repeating over Korea, 82-77 in the final game day of the third window Sunday in Pampanga.
The Philippines shot 14-of-37 from three-point area, relying on its hot shooting to book the win.
Dwight Ramos led the national team with 19 points on 5/9 triples, 3 rebounds, 5 assists, and 2 steals.
Jordan Heading, Kai Sotto, and RJ Abarrientos were all productive with 10 points apiece.
Unlike the last time where Korea raced to a big double-digit lead, Gilas was able to go toe-to-toe with their Asian rivals from the opening tip.
Coach Tab Baldwin's group led by as much as 43-34 midway in the third, before Korea chipped away using outside shots as well.
Some baskets by Abarrientos, Heading, and SJ Belangel gave a 75-69 cushion for the nationals.
Later on, Justine Baltazar scored a dunk to make it 81-77 with 31.7 to go.
A foul during a deadball situation was then assessed to Korea in the ensuing play, giving free throws and possession to Gilas as they sealed the victory.
Box scores:
Philippines (82) – Ramos 19, Abarrientos 10, Heading 10, Sotto 10, Navarro 8, Kouame 7, Belangel 6, Baltazar 6, Go 3, Nieto 3, Chiu 0.
Korea (77) – Ra 20, Lee H.J. 13, Yang 12, Lee D.S. 9, Lee S.H. 8, Kim 8, Seong 3, Jun 2, Byeon 2, Yungi 0.
Quarterscores: 18-20, 38-34, 56-54, 82-77.
FIBA.basketball photo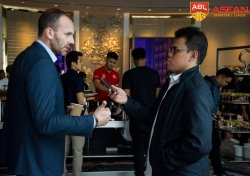 Latest posts by Nguyễn J. Văn Linh (Levi Verora)
(see all)