The Philippine men's beach volleyball team's Olympic hopes came to an end after being eliminated by Australia in the semi-finals of the AVC Continental Cup on Friday in Nakhon Pathom, Thailand.
Australia swept the Philippines, 2-0 in their best-of-three series.
In the first match, Christopher McHugh and Damien Schumann swept Jaron Requinton and James Buytrago, 21-11, 21-15.
The Aussies completed the sweep with Maximilian Guehrer and Zachary Schubert winning by forfeit after an injury sustained by Jude Garcia in the second set, leaving his partner Anthony Arbasto unable to.continue.
Asian Volleyball Confederation photo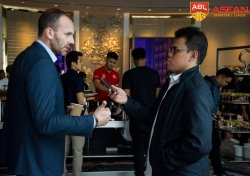 Latest posts by Levi Joshua Jr Verora
(see all)