The Philippine women's beach volleyball team's quest to make the Olympics came to an end as the team faltered against New Zealand in their golden match, 2-1 on Friday in the AVC Continental Cup on Friday in Nakhon Pathom, Thailand.
The Kiwi pair of Alice Zeimann and Shauna Marie Polley bounced back and beat the duo of Bernadeth Pons and Sisi Rondina, 19-21, 21-10, 15-12 and in the rubber match.
The Filipinas had a good opening set but had too many errors in the next two, as they saw the match slip away.
The two sides had split their first two matches in the best-of-three semi-finals series.
New Zealand will advance to the final against Japan.
The two finalists will also join Australia, China, Indonesia, Kazakhstan, Thailand, and Vanuatu in the Olympic qualifying event next week.
Asian Volleyball Confederation photo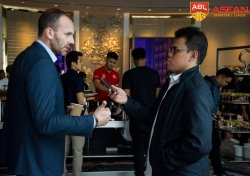 Latest posts by Levi Joshua Jr Verora
(see all)