1,015 total views, 1 views today
Disgruntled Alaska star Vic Manuel has finally been shipped by the Aces to the Phoenix Super LPG Fuel Masters for Brian Heruela.
The trade was completed on Tuesday, with Manuel being the centerpiece of the deal.
Manuel has long requested a trade from the Aces, and Alaska fulfilled his wish.
Aside from Heruela, Phoenix is giving Alaska 3 picks, both from this year's and next year's drafts.
Alaska is also trading two of its own picks to Phoenix.
The deal fills in the void left by Calvin Abueva who was traded to Magnolia last week.
The Fuel Masters now have a formidable frontcourt with Manuel, Jason Perkins, and super 6th man Justin Chua off the bench.
By giving away Heruela, they also solved what could have been a logjam with Chris Banchero in the backcourt.
Alaska, meanwhile, will get assets which they can ship to other teams, instead of just letting Manuel walk away or sit out games.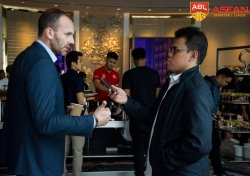 Latest posts by Nguyễn J. Văn Linh (Levi Verora)
(see all)