For the first time ever, Mexico and Switzerland will get to host a world-level FIBA tournament after basketball's governing body awarded the two countries the rights to hold youth World Cup competitions in the future.
The Mexican Basketball Federation will host the FIBA U17 Women's Basketball World Cup 2024, while Swiss Basketball shall be the site of the FIBA U19 Basketball World Cup 2025.
The announcements were made by FIBA on Wednesday.
Meanwhile, Turkey will host both the 2024 and 2026 editions of the FIBA U17 Basketball World Cup.
Czech Republic, on the other hand, will welcome the planet's future stars when they host three youth events from 2025 to 2027: the FIBA U19 Women's Basketball World Cup 2025, FIBA U17 Women's Basketball World Cup 2026, and FIBA U19 Basketball World Cup 2027.
FIBA noted that the multi-year hosting model first introduced in 2019 enables National Federations to host consecutive Youth World Cups, both U17 and U19 men's and women's.
The model was put in place in order to "maximize synergies and better organize and manage events while allowing National Federations to showcase their event-hosting capabilities at the world stage."
The awarding of hosting rights to Mexico and Switzerland also aligns with FIBA's long-term strategic objective of developing youth basketball with the aim of "enhancing development opportunities for young players, coaches and National Federations."
Mexico hosts most of its FIBA World Cup 2023 Americas Qualifiers home games at the Gimnasio Auditorio Universitario in Chihuahua City, while Switzerland has the Site Sportif Saint-Leonard in Fribourg as its home venue.
FIBA.basketball photo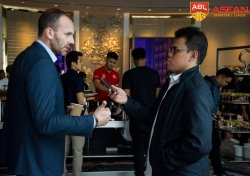 Latest posts by Levi Joshua Jr Verora
(see all)