The Philippine korfball national team ended its three-game slump after edging out Singapore, 11-8 in the IKF Asia-Oceania Korfball Championship 2022 on Wednesday in Pattaya, Thailand.
The squad improved to 1-3 in Group B of the competition which serves as a qualifier for the Korfball World Championship 2023 hosted by continental powerhouse Chinese Taipei.
The Philippines is coached by Philippine Korfball Federation (PKF) President Rodrigo Sambuang himself and managed by Board Member Pauline Gabayan.
Mainly composed of collegiate players with varsity football background, the nationals previously dropped their opener to Indonesia, 6-11, then faltered anew against Hong Kong, 6-16, and New Zealand, 8-27.
The Philippines will round out its group phase campaign against China on Thursday, needing a win to give itself a chance of advancing to the prestigious international competition.
There are six slots at stake for the Asia-Oceania region in the World Championship, and the top two countries in each of the two groups will advance outright to the semifinals.
The third and fourth seeds, on the other hand, will meet in a crossover knockout stage to determine the fifth and sixth overall placers.
Opposite the Philippines' group are Australia, India, Thailand, Japan, Malaysia, and Chinese Taipei in Group A.
Photo from Blaze Athletics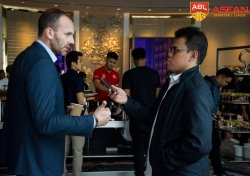 Latest posts by Levi Joshua Jr Verora
(see all)