CEBU City — When the FIBA 3×3 World Tour 2022 Cebu Masters tips off at SM Seaside City here, not only will 14 world-class 3×3 teams showcase their wares; the rivalry between basketball-crazy Philippines and Mongolia will likewise continue.
Ranked as the 22nd country in the world, the Philippines will be represented by hometown hero Mac Tallo's Cebu Chooks and playing coach Chico Lanete's Manila Chooks.
Cebu is guaranteed a spot in the main tournament which is comprised of 12 teams, while Manila has to undergo the qualifying draw against two other squads.
On the other hand, Mongolia, the No. 4 team in the world and the top-ranked Asian country, will likewise field two teams: Sansar and Ulaanbaatar, with the latter also playing in the qualifying stages.
So far this year, Philippines and Mongolia have matched up 21 times across five tournaments, with Mongolia leading the overall head-to-head count slimly, 11-10. Here's a quick rundown:
Chooks-to-Go Pilipinas Asia Pacific Super Quest
The Mongolians sent two teams to the Philippines last April 30 for the Chooks-to-Go Pilipinas Asia Pacific Super Quest held in Sta. Rosa, Laguna.
Zaisan fell to Manila Chooks in the group stage. Sansar prevailed over Butuan Chooks but dropped a close one to Cebu Chooks in the group stage.
Sansar and Cebu Chooks met again in the finals — with Cebu prevailing, 17-15 to give the nation its first major 3×3 silverware.
Ulaanbaatar Super Quest
A week later, it was the Philippines' turn to visit Mongolia for the Ulaanbaatar Super Quest. Cebu Chooks defeated Amgalan but were downed by Ulaanbaatar and Zavkhan.
Manila Chooks earned better results as it made a semifinal appearance — notching two victories over Zaisan and Sansar while losing two games to Zavkhan and Zaisan in the semifinals.
FIBA 3×3 World Tour 2022 Manila Masters
The FIBA 3×3 World Tour 2022 Manila Masters last May 28-29 staged at the Ayala Malls Manila Bay saw four Mongolian teams flying over to the Philippines.
The two countries went 2-2 against each other in the competition. Ulaanbaatar started hostilities with a 22-11 win over Manila Chooks.
Cebu Chooks exacted some payback on a Mac Tallo game-winner by prevailing over Zavkhan, 21-19. Chico Lanete also had his chance to play hero as his two free throws helped Manila Chooks edge Zaisan, 21-19.
But Mongolia would have the last laugh in the knockout stage as Sansar triumphed over Manila Chooks, 21-16.
Penang Challenger Malaysia
It would take three months before the two countries faced each other anew, happening in the Penang Challenger in Malaysia.
Cebu Chooks, featuring a debuting Vince Tolentino, would go 2-1 up in their head-to-head encounters with Zavkhan which they defeated in thrilling fashion, 18-15.
Chooks-to-Go Pilipinas FIBA 3×3 International Quest
Lastly, the Mongolians dominated their Filipino counterparts in the Chooks-to-Go Pilipinas FIBA 3×3 International Quest held last September 16 at the Ayala Malls Solenad.
Zaisan blasted Butuan Chooks, 22-7, while Zavkhan escaped with a nail-biter over Manila Chooks, 19-17.
Zaisan also posted victories against Cebu Chooks and Manila Chooks. It took another clutch free throw from Lanete to notch for the Philippines its lone win over Mongolia when Manila Chooks downed world No. 8 Ulaanbaatar, 21-20.
It will be interesting to see how the four teams from both countries perform against each other in the Cebu Masters in what is turning out to be one of the most gripping rivalries in FIBA 3×3 basketball.
Photo from Chooks-to-Go 3×3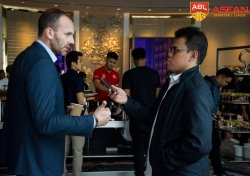 Latest posts by Levi Joshua Jr Verora
(see all)