Newest Chooks-to-Go Pilipinas 3×3 member Vince Tolentino will have a baptism of fire when an all-Filipino Cebu Chooks side tests its mettle at the 2022 FIBA 3×3 Penang Challenger in Malaysia this weekend.
The 6-foot-5 all-around forward out of Ateneo de Manila University joins Mac Tallo (Philippines No. 1), Zach Huang (No. 2), and Brandon Ramirez (No. 4) in the level nine FIBA 3×3 tournament from September 10 to 11 that serves as a qualifier for the 2022 Paris Masters.
"I'm really excited as this will be my first-ever 3×3 tournament. Definitely looking forward to competing with my new teammates and representing the country. I'll do my best in fulfilling my role here in the team," Tolentino said.
Import Mike Nzeusseu was supposed to be part of the squad but his visa to Malaysia did not make it in time.
"This will be a good test for Cebu Chooks on whether they can compete on their own. All of our efforts for the next month will be leading towards our hosting Chooks-to-Go FIBA 3×3 Cebu World Tour Masters and Penang will be a good test for our team," Chooks-to-Go president Ronald Mascariñas said.
The Cebu Masters is scheduled to take place from October 1 to 2 at SM Seaside.
At the Penang Challenger, Cebu Chooks is slotted in Pool A along with Serbia's Liman Huishan NE and Mongolia's Zavkhan MMC Energy.
Cebu faces Mongolia's second-best team at 4:10 P.M. on Saturday before squaring off against the second-best team in the world at 6:50 P.M.
The top two teams will advance to the knockout stages of the tournament which has a US$ 40,000 prize pool.
"I will use this tournament as my gauge on who will compose the Cebu team for the Cebu Masters. Hopefully, we can bounce back in this tournament and gain momentum for our hosting," head trainer Chico Lanete added.
Contributed photo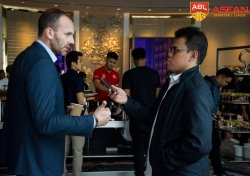 Latest posts by Levi Joshua Jr Verora
(see all)