The Ateneo de Manila University Blue Eagles began their Israel camp with a close win by staving off Israeli National League team side A.S. Ramat HaSharon, 73-69 in a tune-up game held at Oranim Sports Hall on Saturday evening (Manila time).
With the game tied at 69-all, BJ Andrade drained a huge three with 36.8 seconds to give the Blue Eagles the lead.
Ange Kouame's block then completed a stop for coach Tab Baldwin's troops, eventually leading to a Sean Quitevis free throw with 12.8 seconds left which ultimately sealed the win for Ateneo.
Andrade, who is in his final year with the Blue Eagles scored all six of his points in the second quarter.
Veteran Dave Ildefonso bannered the Katipunan-based squad with 27 points built on five three-pointers. Forthsky Padrigao supplied 10 points while Josh Lazaro got nine points of his own.
Kouame and Joseph Obasa both tallied six markers each as well.
The Blue Eagles figured in a slow start in the contest before Ildefonso caught fire in the third frame.
Coming off a strong second quarter, Ateneo built its biggest lead at 10, 54-44, after Ildefonso converted a four-point play with 3:33 left in the penultimate quarter.
Ramat Hasharon, though, was able to catch its opponents flat-footed with a nine-point swing to trim the deficit down to one during the opening minutes of the fourth quarter.
The Israelis scored 10 more unanswered points with 1:24 left in the game to even the score at 69-all, before Andrade's heroics enabled Ateneo to salvage the win.
Up next for Ateneo will be Elitzur Eito Ashkelon at Zysman Arena on Monday at 10:30 PM. The game will still be streamed live on Smart Sports.
The Scores:
Ateneo 73 – Ildefonso 27, Padrigao 10, Lazaro 9, Kouame 6, Andrade 6, Obasa 6, Garcia 4, Koon 3, Chiu 1, Quitevis 1, Gomez 0, Ballungay 0, Daves 0.
Quarterscores: 14-19, 42-35, 57-53, 73-69.
Contributed photo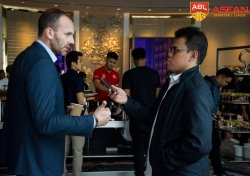 Latest posts by Levi Joshua Jr Verora
(see all)