Jema Galanza scored 21 points, taking over towards the end as the Philippine women's national volleyball team entered the win column of the AVC Cup for Women 2022 after dispatching Iran in four sets, 25-19, 25-22, 20-25, 25-14 on Wednesday at the AVC Cup for Women 2022 at the PhilSports Arena in Pasig City.
Galanza scored eight of her team-high 21 in the clinching set, where the Philippines raced to a large 23-11 lead late behind back-to-back points from her.
The Iranians tried their best to fight back, but it was all for naught as the open spiker would also end the game with a quick hit after an errant reception by Iran.
All but one of Galanza's points came from the attacks department, which the Pinays dominated, 55-43. Tots Carlos added 14 points on 12 hits and two blocks, while Michele Gumabao again finished in double-digits with 13 markers.
Coach Sherwin Meneses' group had 11 blocks, and also benefitted from 27 Iranian errors. Jeanette Panaga and Celine Domingo accounted for five of the 11 denials, as both tallied nine points apiece.
With the win, the Philippines and Iran are now tied with identical 1-2 records. The Iranians will play China tomorrow, while the hosts will round out their schedule against the 0-3 South Koreans.
The Philippines will still need to beat Korea to ensure its spot in the quarterfinals, where it will likely face either Japan or Thailand.
The home side took the first two sets, going on strong 10-4 runs in each to close it and take a comfortable 2-0 lead in the match. This didn't deflate Iran, however, as Mahsa Kadkhoda and Tahminch Dargazani joined hands in the next frame, bring the visitors up, 19-12.
The Philippines managed to pull within 20-23 after a Panaga quick, but Iran took one set back behind a Maedeh Borhani Esfahani off the block hit and a Gumabao attack error.
Elahe Poor Saleh Shahdehsari paced Iran with 13 points on 11 attacks, while Kadkhoda added nine points. Three others scored seven markers each.
AVC Cup 2022 photo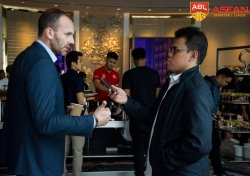 Latest posts by Levi Joshua Jr Verora
(see all)