Veteran Chico Lanete capped Day 1 of the FIBA 3×3 World Tour Manila Masters 2022 with a heroic performance to carry Manila Chooks to a 21-19 win over Zaisan MMC Energy of Mongolia on Saturday at the Ayala Malls Manila Bay.
Lanete scored 12 points including two clutch free throws with 2:34 left to seal the come-from-behind victory for the Filipino side, catapulting them to the quarterfinals of FIBA's top-level professional 3×3 tournament in the process.
Manila closed the match on an 8-2 run after going down by as much as four points.
Gan-Erdene Gantsolmon pushed the visitors ahead, 17-13 with over four minutes left. Prior, they opened the game on a 4-0 note.
Dennis Santos and Lanete joined then hands for the strong closing run. Santos first hit a two-pointer then converted a layup that cut the deficit down to one.
A Lanete long-range connection then gave Manila the momentary 18-17 lead, but Zaisan answered with a two of their own.
The veteran point guard then tied the count with a baseline drive, before a loose ball foul put Zaisan in the penalty situation, awarding two foul shots for Lanete.
The 42-year-old backcourt general calmly sank both in front of the partisan Filipino crowd inside the venue for the crucial win.
It was the latest chapter in what is beginning to be a rivalry for Manila and Zaisan.
Lanete and company took care of business against them back in the Chooks-to-Go 3×3 Asia Pacific Super Quest last April, but Zaisan bounced back with a win in the Ulaanbaatar Super Quest earlier in the month.
Manila finished second in Pool D and shall face Sansar MMC Energy of Mongolia in the quarterfinals tomorrow.
Prior to the win, Manila lost badly to another Mongolian side, Ulaanbaatar MMC Energy, 11-22.
Cebu Chooks also entered the playoffs of the Manila Masters, and shall face the powerhouse Liman Huisan NE of Serbia in the quarterfinals.
FIBA.basketball photos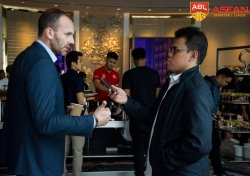 Latest posts by Levi Joshua Jr Verora
(see all)