After a 101-46 statement victory over India on Thursday in the 2023 FIBA Basketball World Cup Asian Qualifiers second window, The New Zealand Tall Blacks are now preparing for what is expected to be a competitive clash against Gilas Pilipinas on Sunday, February 27.
Shortly after their initial game at the Smart-Araneta Coliseum in Quezon City, Philippines, Tall Blacks assistant coach Daryl Cartwright said that given the Filipinos play passionately, their squad will have to prepare a lot more.
"We'll be going up against a side with a lot of passion and we'll definitely be expecting a physical game and be having to weather that. And obviously it will be a lift from the intensity of tonight's game to the game against the Philippines. We've got to prepare and scout," Cartwright said.
New Zealand wasted no time against India, jumping out to a 23-3 lead to take control of the entire contest. Tom Vodanovich led the men in black with 21 points while Ethan Rusbatch and Rob Loe added 18 and 15 markers each.
Cartwright added that originally, the Tall Blacks' plan was to scout Gilas against South Korea, which was supposed to push through after their contest but the Koreans pulled out of the window at the last minute due to COVID-19 cases.
Due to the circumstances, the Tall Blacks will instead focus on trying to get familiarized with Chot Reyes' team and their tendencies.
"We're just sort of preparing the best way we can for that match and be ready, understand their personnel, the style of play that they'll come out with, and just being ready for that intensity," Cartwright shared.
On the other hand, playing away from home is something the New Zealanders are in fact looking forward to, ever since they became part of the FIBA Asia region in international basketball competitions.
The last time New Zealand played on Philippine soil was during the 2016 FIBA Olympic Qualifying Tournament in Manila, where they scored an 89-80 victory at the Mall of Asia Arena over then head coach Tab Baldwin's group.
Another interesting tidbit that Filipino fans can also expect would be the traditional New Zealand Haka chant, which they perform in sporting events prior to game time as a way of getting amped up while honoring the country's culture.
In fact, the Oceania side is cognizant of the Filipino basketball fanbase, which they expect to add more color to the upcoming duel.
"These are the kind of games you want to play. It's not often you get to play in a foreign country where basketball was so highly regarded and supported," veteran Dion Prewster, who had six points, eight rebounds, and six assists against India, mentioned.
"It only adds to the atmosphere and we know for sure that the Philippine team will come out and give their best effort. I'm sure coach Nenad (Vucinic) will have them prepared as well."
Cartwright echoed Prewster's sentiments, as the Pero Cameron-mentored side can only wait for the clash to unfold.
"No doubt, there will be a big crowd in here behind them to support and that's always fun when you get to play away from home, play against the host team, they have passionate fans, that makes it fun as a competitor. You thrive off that and that's what we are kind of preparing our players for and they'll be excited looking forward to that clash as well," he said.
FIBA.basketball photo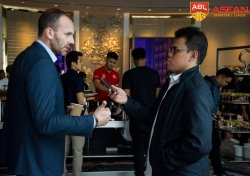 Latest posts by Levi Joshua Jr Verora
(see all)