The Adelaide 36ers couldn't sustain its double-digit advantage in the fourth quarter, suffering a huge meltdown as they lost to the Brisbane Bullets, 77-73 on Friday in the NBL Australia 2021-2022 regular season at the Nissan Arena.
The 36ers led, 67-57 midway through the payoff period when the Bullets would answer with a tremendous 18-3 run capped by a dunk and two free throws by Lamar Patterson that made it 75-70 with 18 seconds left.
Adelaide went scoreless for almost a seven-minute stretch in the process, before Sunday Dech hit a triple to cut the deficit down to two.
But coming off the timeout, Tanner Krebs sank two more charities to put the game away, completing the comeback for the home side.
Patterson had a game-high 32 points on 11-of-19 shooting along with four rebounds, six assists, and five steal. Brisbane improved to 5-7 with the win while the 36ers sank to 4-7.
Adelaide also had a 15-3 start to the game, but settled for only a 38-36 lead as the Bullets clicked from the three-point line.
The 36ers only had 10 players available for the game, with Mojave King and Dusty Hannahs sitting out after failing their match day fitness tests.
Isaac Humphries, an integral part of the Adelaide frontcourt, meanwhile, has been ruled out of the entire season already due to a knee injury, a major blow for the club's campaign.
Daniel Johnson's double-double of 15 points and 12 boards paced the 36ers, while Cameron Bairstow and Emmanuel Malou chipped in 12 and 11, respectively.
Kai Sotto was a steady presence off the bench with six points and five boards, although he committed four turnovers. He shot 3-of-4 from the floor in over 15 minutes of play, but sat down the entire fourth period.
Photo from Adelaide 36ers Facebook page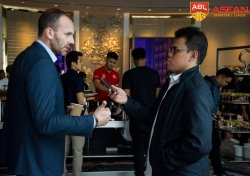 Latest posts by Levi Joshua Jr Verora
(see all)