Thirdy Ravena tallied the best stat line of his Japan B.League career, but it was Dwight Ramos who scored the last laugh as the Toyama Grouses edged the San-En NeoPhoenix, 90-89 on Sunday.
Ravena scored in 26 points on 11/14 shooting and grabbed nine boards while dishing out five assists and also recording three steals in the best performance of his B.League career.
However, the Grouses did enough to score back to back wins as Ravena muffed a potential overtime-sending free throw attempt. Toyama beat San-En, 92-77 the other night.
Keijuro Matsui hit the game-winning basket in the dying seconds which gave Toyama a 90-88 margin, after Ravena had knotted the count on a triple.
Later right after the heartbreaking loss, Ravena was seen emotional. He split his two free throws in the end game, missing the second which could have sent the game to overtime.
Ramos and Grouses import Joshua Smith, who played for the TNT franchise in the PBA as well, went to comfort Ravena.
Ramos, meanwhile, provided solid support with his 16 points and 10 boards, shooting 6/11 from the floor.
Photo from Toyama Grouses Facebook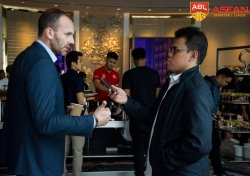 Latest posts by Levi Joshua Jr Verora
(see all)