The Philippines will host a "bubble" window of the 2023 FIBA World Cup Asian Qualifiers in February 2022, the basketball governing body announced.
Though already qualified as World Cup co-hosts, Gilas Pilipinas will still compete in the qualifiers.
FIBA announced that the November 2021 and February 2022 windows' worth of Group A games shall be played in the said month.
"Due to the travel restrictions related to COVID-19 in several countries in East and South East Asia, Groups A and B will be played in a "bubble" format in order to ensure the health and safety of all participants," it said in a statement.
In Group A are Gilas' arch-rival Korea, New Zealand, and India.
Gilas does not need to win games necessarily in the qualifiers as they are already in the World Cup proper, but head coach Tab Baldwin had earlier stated the need to expose the national team in a handful of competitions in 2022 to prepare for the prestigious event.
Group B games will be hosted by Japan, while Groups C and D games will follow the regular home-and-away format.
FIBA.basketball photo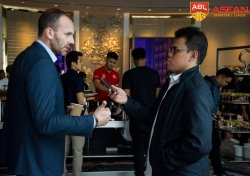 Latest posts by Levi Joshua Jr Verora
(see all)