Kiefer Ravena had a productive showing again on Saturday to help the Shiga Lakestars edge the Ibaraki Robots, 93-88 on Saturday in the 2021-22 Japan B.League season.
Playing at home, Ravena scored 13 points and dished our four assists in over 25 minutes to go along with his three rebounds and two steals, contributing to Shiga's second win in three games.
The Lakestars were trailing, 77-69 halfway in the final quarter before closing the game on a crippling 24-11 run.
Ravena's back to back jumpers gave Shiga an 83-80 lead, before a total team effort finished the job.
Javi Gomez de Liano, the Robots' designated Asian import, did not play for Ibaraki as he was still completing the quarantine for health and safety protocols.
Kobe outduels Thirdy, Albirex wins
Meanwhile, Kobe Paras shone for Niigata Albirex BB's second win as they repulsed Thirdy Ravena's San-En NeoPhoenix, 77-64.
Paras scored 21 points, including 4/10 from three-point land. He also registered five rebounds and three assists in over 31 minutes.
Niigata leaned on its 23-11 first quarter start to seize control of the match and never look back, keeping San-En at bay until the final buzzer.
The younger Ravena tallied 16 points, four assists, and two steals for a solid game himself.
Earthfriends Tokyo Z lose big anew
In Division B action, Juan Gomez de Liano's Earthfriends Tokyo Z were blown out big by the Yamagata Wyverns, 81-51 as his club continues to struggle early in the season.
The point guard was scoreless in only 1:32 minutes of playing time.
Like Ramos and Javi Gomez de Liano, Kemark Carino did not suit up in the Aomori Wats' close 95-86 loss to the Nishinomiya Storks.
Shiga Lakestars photo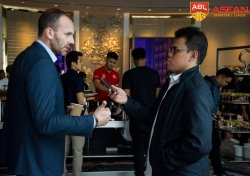 Latest posts by Levi Joshua Jr Verora
(see all)