1,014 total views, 2 views today
Ray Parks Jr. had a relatively quiet showing in limited time for the Nagoya Diamond Dolphins on Saturday in his Japan B.League debut.
Perhaps still nursing a muscle strain which forced him out of action last week, Parks logged 12:58 minutes and tallied two points (1/3 FGs) four rebounds, three assists and a steal.
Nagoya lost to the Hiroshima Dragonflies, 98-90, sliding to 0-3 in the West District team standings.
Meanwhile, Dwight Ramos was still unavailable for the Toyama Grouses in his squad's 96-70 setback to powerhouse Alvark Tokyo.
Toyama likewise fell to 0-3 in the early season.
Ramos had missed his team's opening weekend games last week to complete health and safety protocols.
Nagoya Diamond Dolphins photo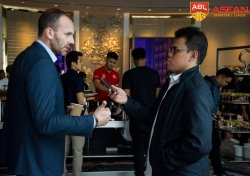 Latest posts by Nguyễn J. Văn Linh (Levi Verora)
(see all)