Francis "LeBron" Lopez has decided to turn pro in a move that send shockwaves to the Philippine basketball scene on Tuesday night.
The 18-year-old wing man out of Ateneo High School has signed with Overtime Elite (OTE).
According to an Sports Illustrated report, the 6-foot-5 Lopez is described by his head coach Kevin Ollie as "a high flyer with his ability to play above the rim."
"We're building a program for him that will develop his game more completely, so that he can achieve his dream of a professional career and as a leader on the Philippines national team for years to come," Ollie added, per SI.
Overtime Elite will start in September and has signed key prospects from all over the world.
The league describes itself as "a transformative new sports league that offers the world's most talented young basketball players a better pathway to becoming professional athletes and engage and inspire a new generation of fans."
Per the Sports Illustrated report, Lopez is expected to earn at least $100,000 per year as guaranteed minimum salary, on top of bonuses, and additional revenue by use of name, image, and likeness (NIL).
Lopez played for Gilas Pilipinas in the 2021 FIBA Asia Cup qualifiers third window. He is the latest overseas signing after the likes of Kai Sotto, Thirdy and Kiefer Ravena, and Juan and Javi Gomez de Liano.
FIBA.basketball photo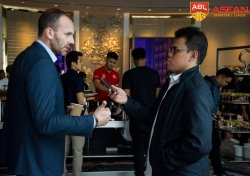 Latest posts by Levi Joshua Jr Verora
(see all)