Team USA avoided further embarrassment after getting back on track with a 108-80 blowout win over Argentina in their third exhibition match in Las Vegas, Nevada Tuesday night.
The win enabled the United States Olympic team to salvage one victory and somehow silence critics for now, after losing to Nigeria, 90-87 and Australia, 91-83 in the past two tune-up games.
After the win, Washington Wizards guard Bradley Beal spoke about the team's realizations in the short amount of time they have been training together.
"The biggest thing we have to realize is that it's not the NBA, and coach Pop keeps reemphasizing that to us every single day," Beal said, per USA Basketball.
"It's more physical. These guys have been playing together for five, 10-plus years, so they have this experience and chemistry. We're trying to develop that in a short period of time."
Beal scored 12 points in the win, including two triples. The 28-year-old shooting guard has not played for Team USA since his youth days, representing the country in the 2010 FIBA U17 World Championship.
The 6-foot-3 guard added the squad, which features the likes of Kevin Durant, Damian Lillard, Zach LaVine, and Bam Adebayo, is still improving and headed towards the right direction.
"A sense of urgency is what we are preaching, but at the same time, every single day we have to get better. There's still a lot more we can improve on, but we're moving in the right direction."
Team USA will play Spain and Australia in its final two exhibition games before flying for Tokyo in a quest to win its fourth consecutive gold medal in men's 5×5 basketball.
USA Basketball photo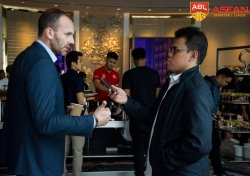 Latest posts by Levi Joshua Jr Verora
(see all)