Can Jalen Green still play basketball for Gilas Pilipinas?
The Filipino-American has represented the United States in the FIBA U19 World Cup before, and general knowledge suggests dual citizens can play for only one country for good — which is the one they've chosen first.
While hopes seem dim for the now 19-year-old wing man to ever don a Gilas jersey, a recent ESPN report may just shed more light into the situation.
According to ESPN's Mechelle Voepel, WNBA players and sisters Nneka and Chiney Ogwumike were both listed for the Nigerian national team provisionary roster for the Tokyo Olympics.
This is in spite of both players having represented the United States in FIBA-sanctioned events prior.
The report stated that USA Basketball, the country's governing body for basketball, has given Nneka and Chiney releases, making it possible for them to even be part of the primary roster pool of Nigeria.
Per ESPN:
"USA Basketball has released both Nneka and Chiney, which was required since both previously have competed for the United States in FIBA-sanctioned events. Generally, if players have done that after having reached their 17th birthday, they are not allowed to play for another country in a FIBA event. However, according to FIBA's regulations on player eligibility, the organization's secretary general may authorize a player to compete for the national team of his or her country of origin if this is in the interest of the growth of basketball in that country.

One of FIBA's pillars of emphasis currently is the growth of women's basketball worldwide, which could favor the decision for Nneka and Chiney getting to play for Nigeria. Erica Ogwumike committed to the Nigerian team last year; she had not played for Team USA in a FIBA-sanctioned event. Chiney Ogwumike began looking into the possibility of representing Nigeria about two months ago."
Following this logic, Green will have to be released by USA Basketball, and then get clearance from FIBA to grant him eligibility to play for the Philippines given it is in the best "interest of the growth of basketball" in that country.
The Philippines is set to co-host the 2023 FIBA World Cup along with Japan and Indonesia, and the Samahang Basketbol ng Pilipinas (SBP) have been working hard to get Fil-foreigners like Jordan Clarkson and Remy Martin to be part of the Gilas roster for FIBA events.
The 6-foot-6 Green is poised to be an NBA lottery pick, ranking high in several mock drafts. Should he become a future NBA star, the chances are Team USA would keep him for future international competitions.
He played for G-League Ignite, the same squad Kai Sotto was supposed to be in before deciding to play for Gilas and eventually sign a contract with Australian side Adelaide 36ers.
Earlier this year, FIBA Secretary General for Asia Khajirian Hagop mentioned the world's governing body is open to changing player eligibility rules for as long as it helps the growth of the sport worldwide.
FIBA.basketball photo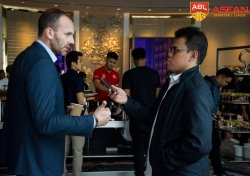 Latest posts by Levi Joshua Jr Verora
(see all)