3,054 total views, 2 views today
The Philippine women's beach volleyball tandem of Sisi Rondina and Bernadeth Pons beat New Zealand on Friday to move a win away from the AVC Continental Cup final in Nakhon Pathom, Thailand.
The dynamic duo won the second match, 21-12, 17-21, 15-9 against New Zealand's Francesca Kirwan and Olivia MacDonald to tie the best-of-three series at one win apiece.
The Philippines will need another win to advance to the final against Japan.
Earlier, Floremel Rodriguez and Baby Love Barbon fell to Alice Zeimann and Shaunna Marie Polley, 14-21, 13-21.
Should they succeed, the nationals will join the final round next week (June 25 to 27) where powerhouse nations across Asia and the Pacific, Australia, China, Indonesia, Kazakhstan, Thailand, Vanuatu, and Japan, are participating.
Asian Volleyball Confederation photo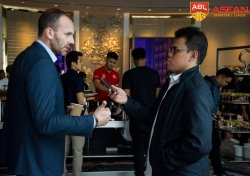 Latest posts by Nguyễn J. Văn Linh (Levi Verora)
(see all)