Steph Curry scored a game-high 26 points which included a big triple late as the Golden State Warriors snapped the Los Angeles Lakers' 5-game winning streak with a 115-113 win Monday.
Curry finished with 26 points and 7 assists while Kelly Oubre contributed 23 points in the upset.
Eric Paschall had a big game off the bench, putting up 19 while Andrew Wiggins added 18.
The 2-time league MVP hit a long-range shot which made it 115-110 with over a minute remaining.
LeBron James and Dennis Schroder scored the next 3 points from the line to cut the lead down to 2.
With 11.7 seconds left, the Lakers had a chance to tie or win the game but James missed a 3-point attempt in the final 1.7 seconds of regulation.
He had 19 points, 5 boards, and 5 dimes. Schroder led Los Angeles with 25 points. Anthony Davis had 17 points and 17 rebounds.
The Lakers fell to 11-4 with the loss while the Warriors rose above .500 to 7-6 in the Western Conference.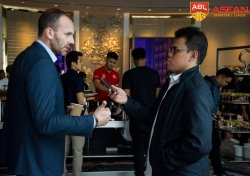 Latest posts by Levi Joshua Jr Verora
(see all)