The support keeps on pouring for the FIFA Women's World Cup-bound Filipinas.
Long-time Philippine women's football national team goalkeeper Inna Palacios has partnered with digital payments leader Visa in a marketing move that is also seen to empower women's sports and football in the country.
"As an athlete, it has always been one of my dreams to represent my country on the global stage, to showcase Filipino upbringing," Palacios said about being tapped as Visa's endorser locally.
"I want my journey to be an inspiration to my countrymen, especially to the youth and young women who aspire to become football players, that humble beginnings, right values, passion, and hard work can bring them success. I am so happy and excited to team up with such a leading global brand."
A graduate of De La Salle University and currently a keeper for Kaya F.C.-Iloilo, Palacios has seen action for the national squad for more than 50 times.
She achieved the 50-cap milestone back in July 2022, when the Filipinas played Singapore at the AFF Women's Championship in Manila.
The move is strategic as Visa has long been a sponsor of FIFA. An official sponsor for the upcoming Women's World Cup, Visa also became part of numerous events, including the FIFA World Cup Qatar 2022.
The brand also sponsored Filipino gymnastics Olympian Carlos Yulo during his Tokyo 2020 stint.
Contributed photo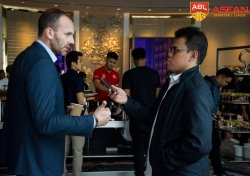 Latest posts by Levi Joshua Jr Verora
(see all)