5,555 total views, 2 views today
Filipino legend Manny "Pac-Man" Pacquiao will make his novelty boxing debut in a once-in-a-lifetime opportunity when he engages South Korean martial artist DK Yoo on Sunday, December 11 (Saturday, December 10 United States time).
The six-round exhibition bout is set at the Korea international Exhibition Center in Goyang, South Korea with over 30,000 people expected to be in attendance.
For Filipino fans, the match will be available to watch as a pay-per-view event on TapGo TV beginning at 11:00 a.m. local time. Click this link for details: app.tapgo.tv/home.
Pacquiao (62-8-2, 39 KOs) memorably retired last year after he lost a unanimous decision to WBA welterweight champion Yordenis Ugas.
His opponent is 42-year-old DK Yoo, a renowned self-defense instructor and martial arts practitioner who is popular for his YouTube videos.
The 5-foot-10 native of South Korea claims to know 15 different disciplines, including Jeet Kune Do, Systema, Tai Chi, and Wing chun.
He likewise developed the "Warfare Combat System" which he teaches to his students. DK Yoo fought MMA fighter Bradley Scott before.
In a press conference earlier this year, Pacquiao stated that his earnings from this fight will be donated for the underprivileged.
Meanwhile, the co-main event pits undefeated American Olympian Nico Hernandez (8-0), a Rio 2016 bronze medal winner, against Jae Young Kim (6-1-1) in an eight-round match.
The undercards schedule is as follows:
South Korean Min Wook Kim (16-1) vs. American Marcus Davidson (5-0), six rounds
American Sean Garcia (6-0) vs. South Korean Seung-Ho Yang (2-1-1), four rounds
American Maurice Lee (13-1-2) vs. South Korean Shin-Yong Kim (4-3-1), six rounds
American Marcell Davidson (3-0) vs. South Korean Yoon-Bin Han (2-0), four rounds
Contributed photo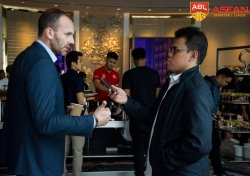 Latest posts by Nguyễn J. Văn Linh (Levi Verora)
(see all)